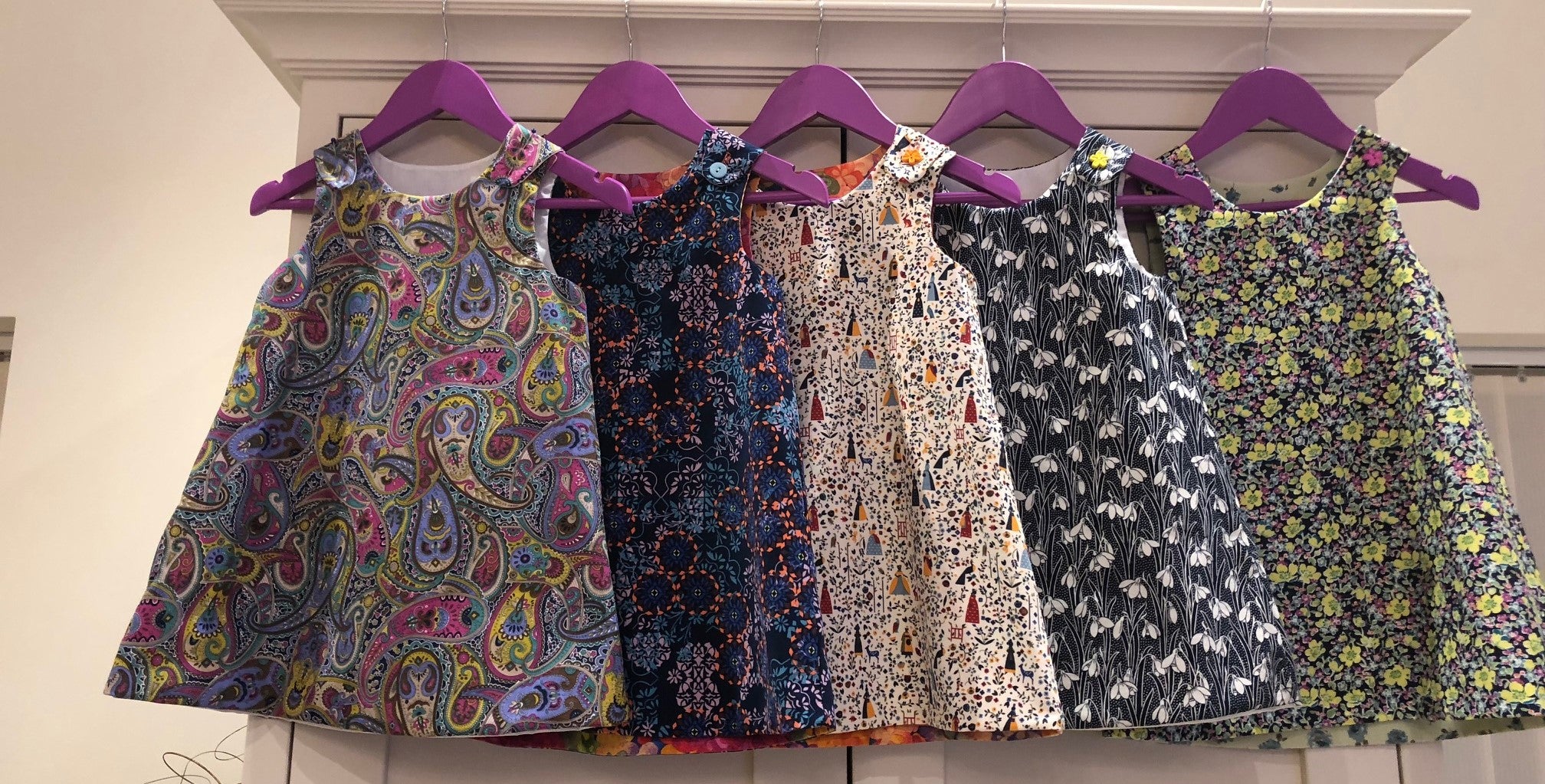 New stocks of Liberty needlecord just in ....
Liberty Rossmore Cord - Hesketh (snowdrop)

Straight skirt Size 12/14 made from 1M of the Liberty needlecord.  We have made it shorter but it could be knee length or below the knee and still come out of just 1M of fabric.
Liberty needlecord - Floral Filigree (blue)
Liberty Rossmore Cord - John - just £16/M
Liberty Rossmore Cord - The Cadbys A
The lovely Anne has made this stunning jacket in the Emerald Bay (bright) needlecord.
 Liberty Rossmore Cord - Emerald Bay (bright) 
The equally lovely Stella (and I) have made these dresses from around 75cm of needlecord to fit 1 to 2 year olds.  Some we have made reversible in the needlecord, so you would obviously need 75cm each of 2 fabrics for these. Others we have popped a cotton lining in.  So many colours in the fabrics to pick out for a t-shirt and tights.
To summarise Liberty needlecord
soft, drapey, lightweight, fine needlecord fabric
100% cotton
143cm/56" wide
172gm/sm - light to medium weight needlecord
machine wash at 30 deg C, line dry, don't tumble
the fineness of the needlecords makes it wearable virtually all year round.  Perfect for dresses, skirts, blouses, shirts and lends itself to little girl's pinafore dresses.  Wear in autumn, winter, spring - even summer use when it's a bit cooler.
Liberty Needlecord  - priced from £16/M
If you would like a sample - just drop me an e-mail with your name and address - susan@sewbox.co.uk
Happy Sewing
Susan
Congratulations to the winners of the February Draw - vouchers have been sent to Maj from London & Amanda from Oxford
 Don't forget - All orders placed in March are automatically entered into the March Draw - to win fabric, patterns and vouchers.