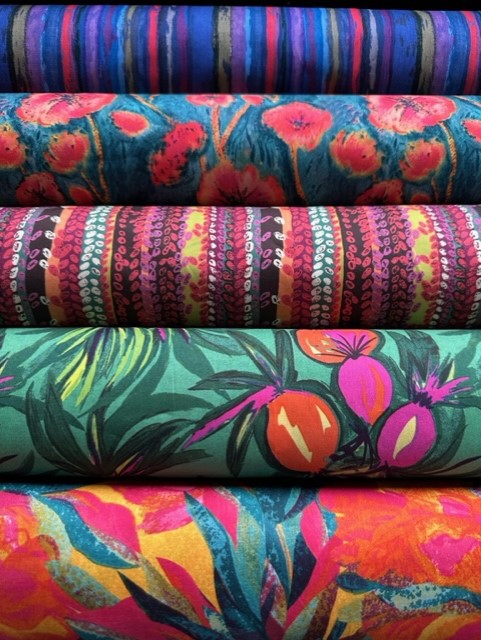 Althea McNish, Liberty Collection at Sewbox
Back at the Knitting & Stitching Show at Ally Pally in October, we were asked by several customers who came to the Sewbox Stand, if we could stock the amazing Liberty Althea McNish fabrics. 
Thanks to those lovey customers we are now very pleased to be able to include some of the Liberty exclusive Althea McNish collection here on the Sewbox website.
Above is the stunning Althea Trinidad fabric
Althea McNish was born in Port of Spain, Trinidad in 1924, and in 1951 migrated to London where she eventually enrolled at the London School of Printing and Graphic Arts (now London College of Communication) and learned the production process of screen printing. Her audacious use of colour and refined technical skills were spotted by Liberty chairman, Arthur Stewart-Liberty and after buying her graduate collection, she was immediately commissioned by Liberty Fabrics to design for their 1958 furnishing and fashion fabric collections, effectively setting the stage for McNish's historic career in British textile design.
 Althea McNish is one of the most important names in British textile design history, her designs, which included public, mural art, interior and set design, demonstrated her self-described 'tropical eye'. Her riotous colour palette ousted the sombre post-war atmosphere of the time. The William Morris Gallery celebrated McNish's impact on mid-century British design by hosting and co-curating the first major respective for the designer and artist. Sponsored by Liberty Fabrics, 'Althea McNish: Colour is Mine' showcased previously unseen items from McNish's personal archive, photographs of her student years in 1950s London, early scrapbooks, and her postgraduate RCA dissertation. Along with 'Golden Harvest' (1958), a major work of McNish's, inspired by childhood walks through swaying fields of wheat in a sugarcane plantation in Trinidad. Surely this fabric Tepeaca Study below is one of these ....
 To pay tribute to the exhibition, Liberty Fabrics reissued a capsule collection of McNish's original fabric designs, reinterpreted for the modern era. Income generated from the collection helped the William Morris Gallery to support the exhibition, fund art and design educational projects for young people, and encourage a new generation of young artists and designers to find pathways into fine art and textile design.
Really cannot thank those lovely customers enough, who we met at the Knitting & Stitching last October, and made us here at the Sewbox Team much more aware of this iconic designer and her stunning fabrics.
Bring some colour into all our lives with the beautiful Althea McNish inspired Liberty Tana Lawn fabrics.
Happy vibrant sewing ...
Susan