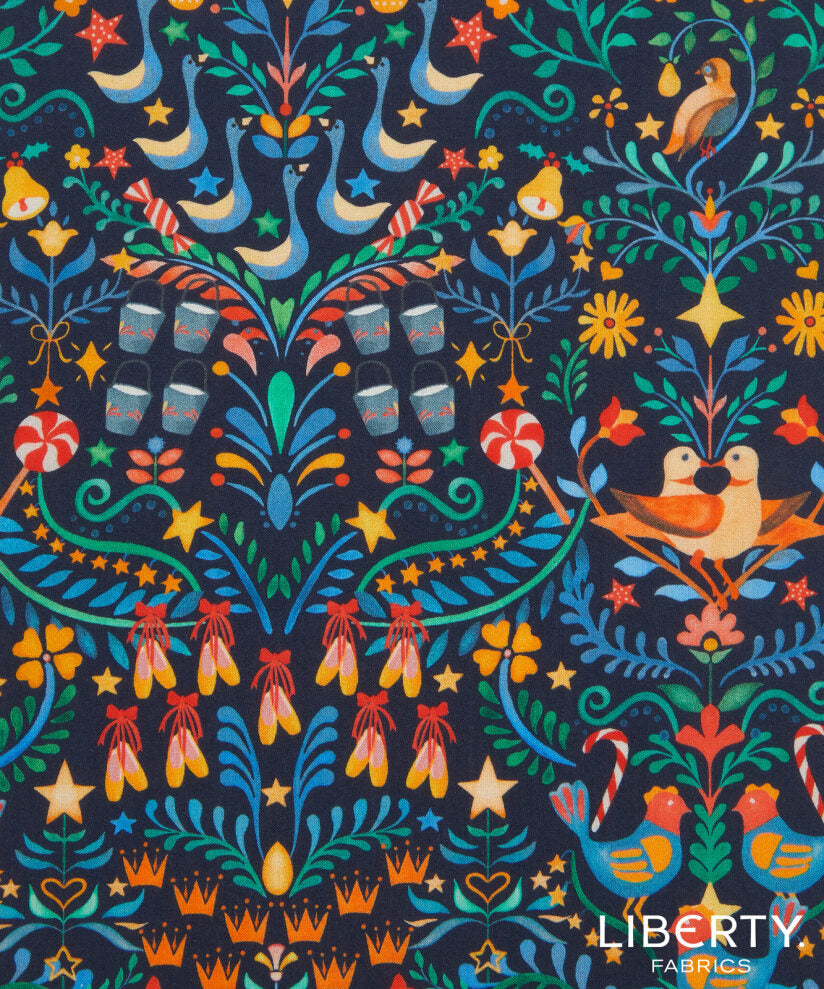 Christmas 2023 Liberty Tana Lawns are here
 The Liberty Tana Lawn Christmas prints for 2023 include
The Twelve Days of Christmas
Tumbling Toys, and
Betsy Star
The Twelve Days of Christmas collection is influenced by folk art, and this vibrant Arts and Crafts style print is a dazzling representation of the gifts given in the famous Christmas Carol, The Twelve Days of Christmas. Painted in bright watercolours, vibrant gifts are intertwined with swirling foliage and scattered stars, imaginatively paying homage to the traditional aesthetic of Liberty design.
Tumbling Toys
Conjuring up the fun and excitement of the season, Tumbling Toys is a lively conversational print inspired by traditional folk art. A myriad of sweets, toys and stars are interspersed with cascading drummers, musical instruments and leaping lords in this festive extravaganza.  We particularly like this colour with it's unusual rich dark purple background.
Betsy Star
The classic Betsy print has been re-imagined with a festive Christmas theme.  The 1933 Liberty classic, entwining the design's small stylised floral motif with a scattering of metallic stars for a touch of quintessential Liberty magic.
Other Christmas favourites are Liberty Christmas in blue 
The Liberty Tana Lawn fabrics are 135cm width     100% cotton
In the Liberty Lasenby cottons we have the Deck the Halls 'Holiday Village' fabrics in 3 colourways
The Liberty Lasenby cotton fabrics are 112cm width     100% cotton
Lots of Christmas fabrics to choose from - perfect for all your Festive sewing Projects
Happy festive sewing
Susan