We charge a simple flat rate of £2.95 for all UK orders. Delivery is free on all orders of over £100.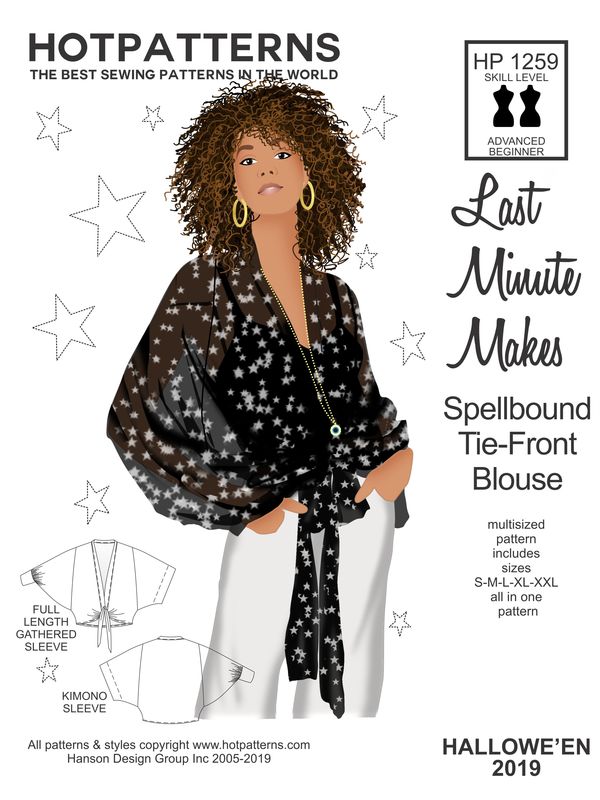 Hot Patterns 1259 DOWNLOAD Last Minute Spellbound Tie-front Blouse
Please note this Pattern is DOWNLOAD only.  It is not a Paper Pattern
Grab some pretty drape-y or floaty fabric and make yourself this unbelievably easy tie-front blouse.
This simple blouse has a banded neckline which becomes ties to close it at the low waist, although you can tie it lower or higher to suit yourself.  Your blouse has deep raglan sleeves; cut them to below the elbows and face the hems, or make them full length gathered onto deep cuffs.  Blouse is finished with a narrow hem.
You'll want to wear this as a top layer over a simple cami or tank top or dress, or over a slim-fit T-shirt.  Make this one as a quick and easy way to dress up a simple outfit, and wear it as a pool, beach or evening cover-up. 
Fabric requirements
Sizes S-M-L you'll need 3 yards or 275cm of fabric.
Sizes XL -XXL you'll need 3 1/2 yards or 320cm of fabric.
That's it, nothing else!
All fabric amounts are for 60"/150cm wide fabric.


Suggested fabrics
This pattern is drafted for lihgtweight woven fabrics; you'll get the best results with a drape-y or floaty fabric like chiffon, georgette, soft all-ove lace, crepe-de-chine or a lightweight crepe.  You can also try a devore velvet, a tissue or lightweight T-shirt knit, or a rally lightweight sweater knit.