We charge a simple flat rate of £2.95 for all UK orders. Delivery is free on all orders of over £100.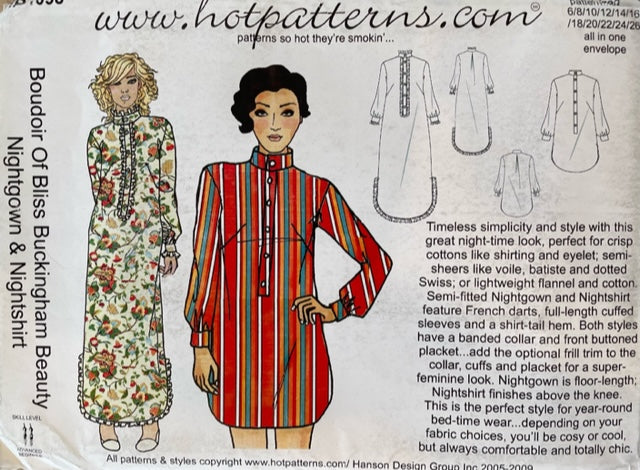 Hot Patterns 1098 - Boudoir of Bliss Buckingham Beauty Nightgown & Nightshirt
Timeless simplicity and style with this great night-time look, perfect for crisp cottons like shirting and eyelet; semi-sheers like voile, batiste and dotted Swiss; or lightweight flannel and cotton.
Semi-fitted Nightgown and Nightshirt feature French darts, full-length cuffed sleeves and a shirt-tail hem. Both styles have a banded collar and front buttoned placket...add the optional frill trim to the collar, cuffs and placket for a super-feminine look. Nightgown is floor-length; Nightshirt finishes above the knee
This is the perfect style for year-round bed-time wear...depending on your fabric choices, you'll be cozy or cool, but always comfortable and totally chic.
FOR THE NIGHTGOWN sizes 6-8-10 need around 3.75 yards/ 3.45 m of fabric; sizes 12-14-16-18 need around 4 yards/ 3.66 m of fabric; and sizes 20-22-24-26 need around 4.25 yards/ 3.90 m of fabric.
FOR THE NIGHTSHIRT sizes 6-8-10 need around 2.75 yards/ 2.52 m of fabric; sizes 12-14-16-18 need around 3 yards/ 2.75 m of fabric; sizes 20-22-24-26 need around 3.25 yards /2.98 m of fabric.
All sizes require .25 yard / 23cm of lightweight fusible interfacing, plus 8 × .75"/ 2cm buttons.
For the optional frill trim, you'll also need around 14.5 yards/13.25 m of trim, or around 7.25 yards/ 6.65 m of ready-gathered trim, or an extra .25 yard/ 23cm of fabric to make your own trimming.
All fabric amounts are for 60"/150cm wide fabric.