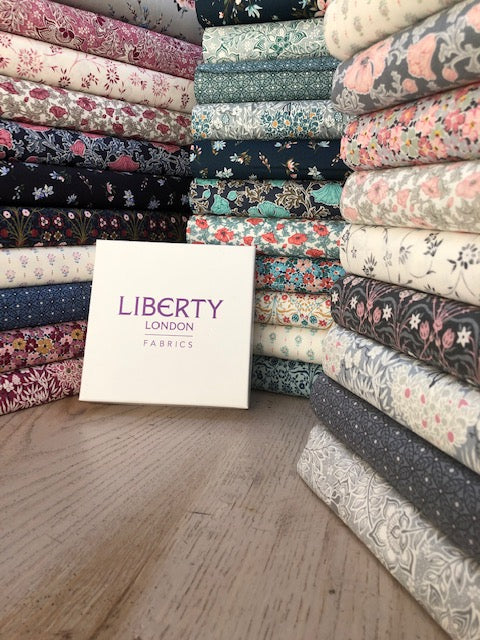 The Liberty Winterbourne Collection is here ...
 There are 33 fabrics in the NEW Winterbourne Collection which is split into 3 colourways:
11 teal prints,
11 grey prints,
and 11 pink prints. 
You can mix and match all 33, but if you wanted to go for teal tones, or grey tones or pink tones then you can filter by these colourways on the website here
The Liberty Winterbourne quilting collection draws inspiration from the Arts and Crafts movement – the creative period from c.1860-1910 when English designers led a return to high-quality and handmade goods, creating elegantly stylised interpretations of botanical and historic motifs. 
 Named after an exquisite Arts and Crafts period villa in Birmingham, these prints draw upon the interiors of the house and the family who once lived there.
 Price:  £15.00/M
Minimum order quantity 1 x quarter metre.  All fabrics ordered are sold as a continuous length.   
100% cotton.  Suitable for all all sewing projects including crafting, patchwork and quilting. 
Width: 112cm / 43 inches Weight: 200 gsm
If you were to order just a quarter of a metre this would normally be cut as a Fat Quarter ie 50cm x 56 cm
Start mixing and matching now for your next Project. 
If you can't decide then you can purchase the Winterbourne 33 x 1 Fat Quarter of each print Collection Pack at £120 here
Enjoy these gorgeous fabrics
The lovely Yvonne has made this useful bag up in Winterbourne fabrics
Well done Yvonne!
Safe sewing ...
Susan