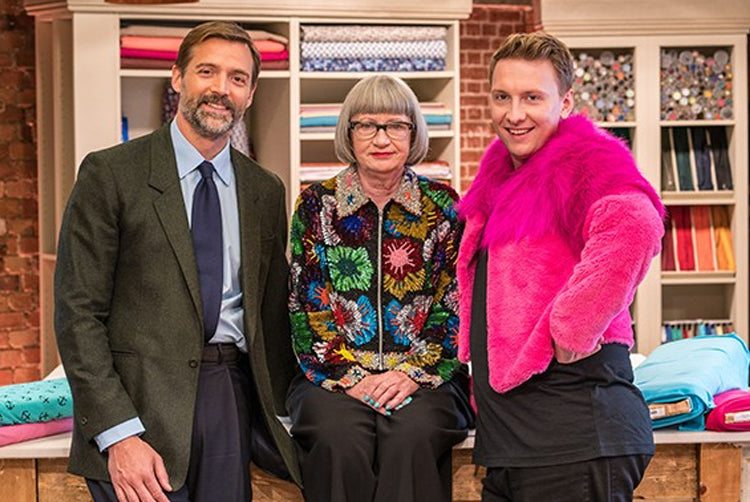 The Great British Sewing Bee Season 5 - what can we expect?
After a hiatus of over two years, the Great British Sewing Bee is just days from returning to our screens for its fifth season. There's been some big changes - here's what to expect this time round!
I've never watched the GB Sewing Bee - what's it all about?
The Great British Sewing Bee is known as the sister show of the immensely popular Great British Bake Off, and follows a similar format. Ten budding contestants (more on them below) are assigned an array of weird and wonderful tasks throughout the course of the season, which see their sewing and design skills tested in every area. They are judged on their craftsmanship and the quality of their finished products. 
How can I watch the new season?
Season Five airs on BBC2 at 9pm TUESDAY the 12th February, and will run weekly until the BBC have crowned their 2019 winner.
Who's the new host?
This season we say a fond farewell to Strictly Come Dancing's Claudia Winkleman as Sewing Bee host, and welcome comedian Joe Lycett. Lycett is known for his appearances on some of the UK's hit comedy panel shows such as QI and 8 Out Of 10 Cats, and can't wait to begin his new role.
He confirmed his move to the Bee with a pun-filled announcement: "My mum loves this show and she's bursting at the seams she's sew excited! Weave talked about it and she says I'm tailor made and I'll have the contestants in stitches."
Who are the judges?
The 2019 contestants will be aiming to impress two big-hitters in the world of fashion and design. They are:
Patrick Grant, Creative Director of Norton & Sons, Savile Row tailors. Norton & Sons are known for clothing many of the best dressed men and women of the last century, including King George V, and Grant was named Menswear Designer of the Year at the 2010 British Fashion Awards.
Esme Young, senior lecturer on London's Central St Martin's College fashion course and top UK movie costume designer. Esme has worked on films such as Trainspotting and the ever-famous Bridget Jones's Diary.
Who are our new contestants?
As always, the Sewing Bee's contestants are UK based but come from a wide array of backgrounds which can have really interesting effects on their creative styles. Here's the ten people with their eyes on the season five prize.
Alexei, a manufacturing engineer from Leeds who is pursuing his passion for sewing even after studying a degree in aerospace engineering!
Ben, a scientist with a passion for design who lives in Edinburgh with his 2 dogs.
Janet, a retired shopkeeper from North Yorkshire, who was taught to sew by her Italian mother as a little girl.
Jen, a small business owner from Glasgow who leads a local knitting class among her many other projects.
Juliet, a primary school teacher originally from Nigeria, now living in London and pursuing her sewing passion.
Leah, a successful Architectural Director who's worked on some huge projects with the Southbank Centre and the V&A in London. 
Mercedes, a school Reprographics Technician who served in the Territorial Army for 13 years before settling down in East Sussex.
Riccardo, a Graphic Designer and Multimedia Producer originally from the beautiful Puglia region, south of Italy. 
Sheila, an Integrated Care Liaison Officer from Ilford, Essex, whose Jamaican mother instilled a love for sewing in her from an early age.
Tom, a Motion Graphics designer from Essex, who learnt how to sew from Youtube and sewing blogs (like this one!) to make dresses for his mum.