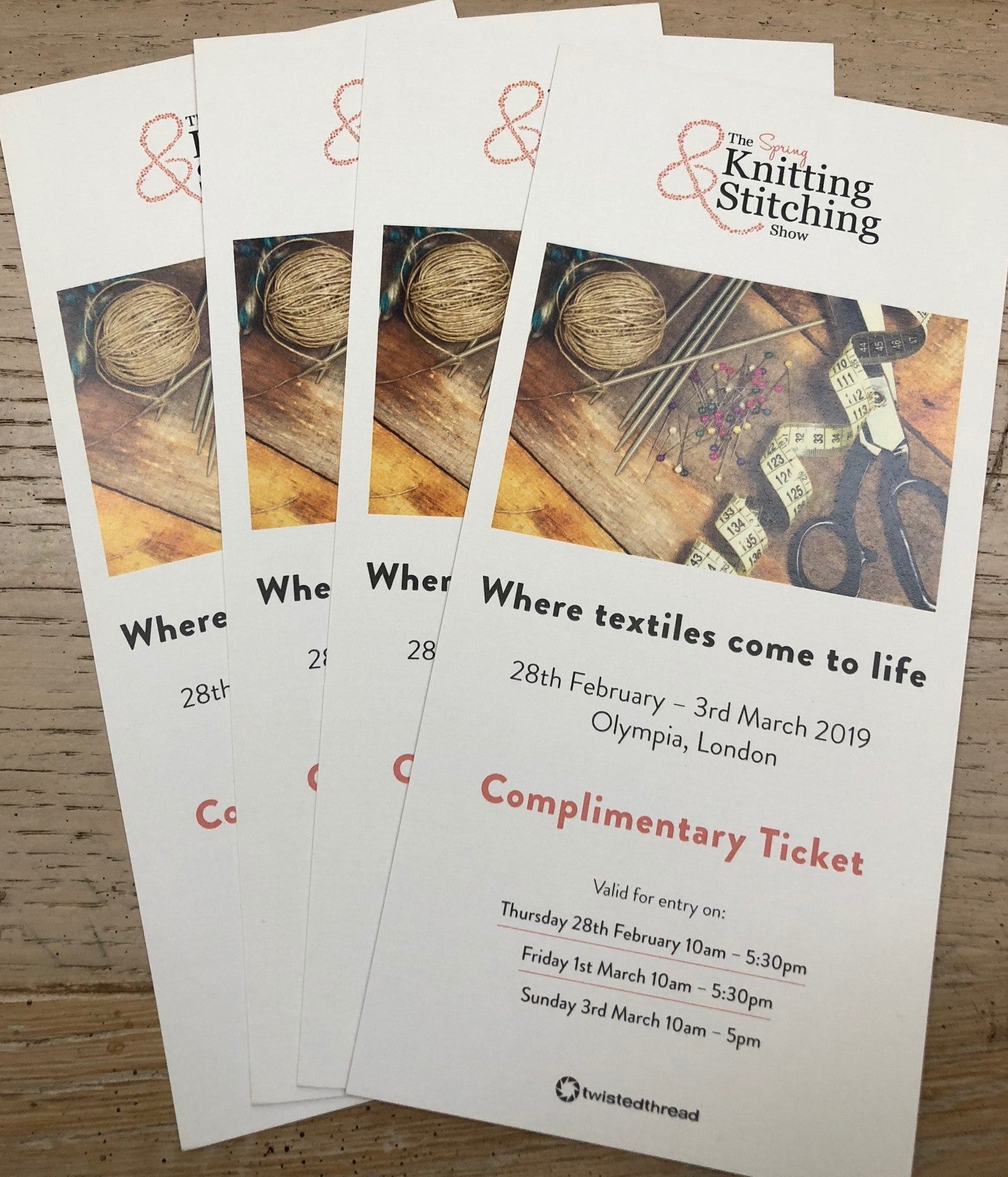 Free Ticket Give-away Knitting & Stitching Show, Olympia
4 Tickets for Knitting & Stitching, Olympia - GIVE-AWAY
Yes we're giving away 4 Complimentary Tickets for the Spring Knitting & Stitching Show at Olympia this year.  The tickets are valid for:
Thursday 28th February, 2019      10am-5.30pm or,
Friday 1st March, 2019                   10am-5.30pm, or
Sunday 3rd March, 2019                10am-5pm
Unfortunately they are not valid for Saturday 2nd March ... sorry!!
All you have to do is send me an e-mail on susan@sewbox.co.uk or a Contact Box on the website and the 4 lucky winners will be picked out next Saturday, 26th Jan, 2019.  Please let me know if you are coming on your own and need 1 ticket, or coming with a friend and hoping for 2 tickets.
If you are not lucky enough to win a ticket - here's a dedicated Sewbox code for a reduced price ticket when booking on-line or on the phone SPRING122
What's on offer at the Show this year...
Hundreds of classes for all levels in the Learning Curve Workshop, The Dressmaking Studio or the new Spring Sewing School

- download the Workshop programme here and book now for a taster session! All levels catered for in the extensive choice of classes.
Free demos and competitions in the Creative Living Theatre
Get involved in the Morsbag/Bag4life challenge to help reduce plastic waste at the Show and as we go about our lives.  Details are here

Over 150 Specialist stalls 

full of everything to do with sewing/knitting

The new

Prosecco Bar

- sip on a glass of fizz whilst you stitch away on your next craft project or just catch up with like-minded crafters
It's such a lovely Show and the timing this year con-inciding with the start of The Great British Sewing Bee series on BBC2 from 12 February is just perfect. We look forward to seeing you on the Sewbox Stand B77 in the West Hall where we will have a huge selection of lovely Liberty fabrics and Hot Patterns from the US etc. etc.
Susan