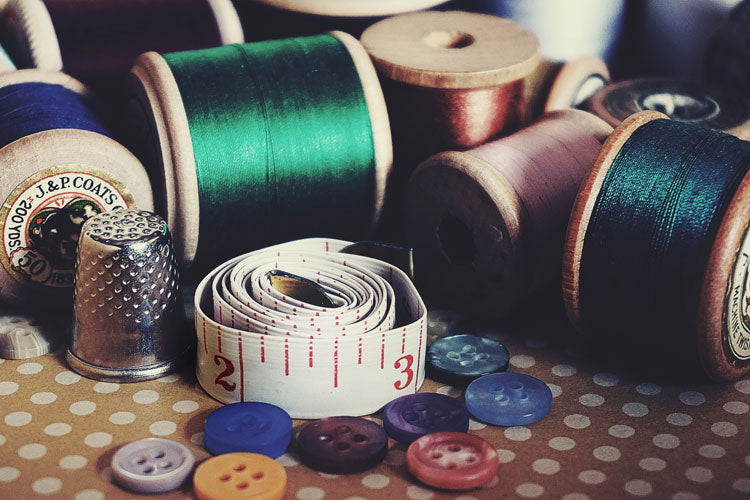 'The Great British Sewing Bee' could inspire millions of new sewers to take up the craft
The success and popularity of the Sewing Bee's fifth season is bringing in new audiences to the BBC, but could also inspire millions across the globe to pick up the needle for themselves.
In a Guardian article published in 2017 (https://bit.ly/2kEQYvg), we learnt that more than a million people had taken up sewing in the last 3 years and that 7.7 million people in the UK counted sewing and stitching as a personal hobby. This was great news for the industry, and confirmed that sewing was beginning to join other "retro" skills like home baking in a new revival amongst younger people.
Now, with the release of the BBC's fifth season of 'The Great British Sewing Bee', we could see these numbers climb even higher as more people discover sewing for themselves. Here's just a few reasons why you should take up the hobby yourself!

Sewing can help you get involved with your local community and make new friends.
Sewing is a personal endeavour and one that you can enjoy alone, but can also bring people together and offer a great way to meet new friends. In fact, many of the Sewing Bee's fifth season contestants began their sewing journey at local clubs, or have even set sewing classes up themselves.
It's highly likely that you'll be able to find fellow sewers in your local area to work with, whether part of a club or an instructional class. And that's not all - sewing can also bring people together from different corners of the globe in large-scale projects that help those in need: see our article here (https://bit.ly/2SrbRX4) for some examples.
Sewing can contribute toward positive mental health.
Studies have shown that taking up an artistic hobby can help with anxiety and depression, and that engaging with your creative side relieves the stresses of everyday life. We talked more about the positive mental benefits of sewing last months article here (https://bit.ly/2GKe2DR).
Sewing is socially conscious and can save you money.
By designing and making your own clothes, or even simpler household items like tea cosies and table cloths, you become part of a fashion DIY revolution that will make you feel much more empowered than simply throwing your money at shop-bought goods.
Fashion Revolution's white paper report (https://bit.ly/1R4k7XE) found that from 219 of the biggest retailers, a staggeringly small number knew the factories where their clothes are being made. So, how can these retailers be looking out for their worker's human rights?

By creating your own clothes, not only do you know that your outfit is free from exploitation, but you can look and feel exactly the way you want. No more relying on the high street to decide what 'you' looks like! Plus, you'll find that this DIY approach is cheaper than buying new outfits every season.
Sewing is easier than ever to learn.
There are countless social media pages and Youtube video tutorials that can help you to take up sewing in no time at all, for free. We'll be picking the best of these and featuring them in an upcoming article next month, so keep an eye out.
If you're ready to jump in, Sewbox provide everything you need to begin your sewing journey or to stock up on beautiful materials needed for your next project. Take a look around!