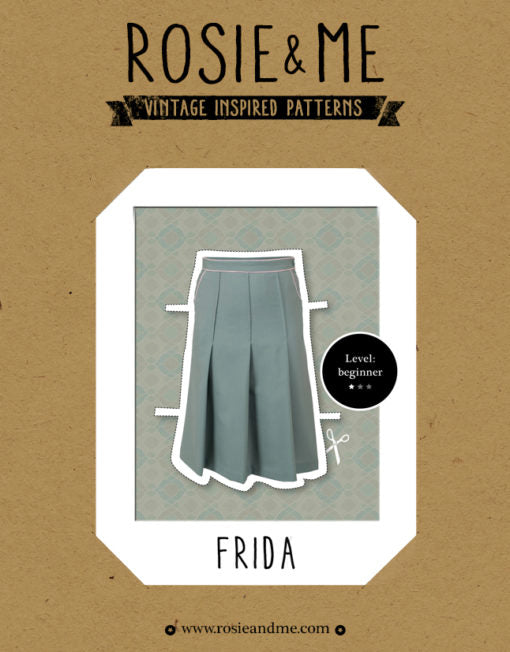 NEW - Rosie & Me Patterns at Sewbox
 Hi Esther - Tell us a bit about yourself and the Rosie & Me patterns?
 Hi, my name is Esther and I live in the lovely little town called Culemborg (The Netherlands) together with my husband, my two little girls Nova and Faye and our not so little dog Zoë.
I design and sell vintage inspired sewing patterns under the brand name Rosie & Me. Rosie comes from my maiden name 'Rosenbrand' and 'Me' refers to You! The sewist! The sewn garment will then be from Rosie & Me.
My love for vintage patterns started in school which I attended in San Francisco. My  pattern teacher taught from a vintage pattern book called Practical Dress Design (by Mabel D. Erwin) from 1954. She believed that if you can draft vintage patterns, you can draft any pattern! Without the use of lycra or stretch materials, body curves and design details had to be achieved by good pattern making techniques. The fashion trend in those years were very feminine, with great details, accentuating the female body.
After finishing school, I worked as a pattern maker, technical designer and product developer for numerous brands. Through Rosie & Me, I have gotten back to my initial love for vintage patterns and created the opportunity to share this enthusiasm with others. 
There are lots of Indie patterns around - what does the Rosie & Me brand bring to the market that is a bit different?
 Besides the vintage details, we have a mission to create the perfect fit for all body types. We know that we all have unique shapes and sizes and therefore don't always fit the clothes (or patterns) that are based on 'the average person'. One of the great advantages of making your own clothes is that you can personalize the pattern to fit you perfectly. This is of course great! But what do we need to do to get this final garment of perfection? Before we start to cut and sew we need to adjust the pattern to our specific measurements and shape (yes, those are actually two different things!). All Rosie & Me patterns include fit tutorials, describing how to alter the pattern, step by step. Even if you have no experience in making pattern adjustments, you will quickly learn how to effectively make patterns fit.
  Size wise, we offer two ranges. Size 4 – 14 and 14 – 24. Since fit, shape and design lines are so important, I chose to develop a separate Plus Collection for larger sizes. This gives the freedom to redesign while keeping a balanced look. For example, redrafting collar shapes and replace or add additional darts and pleats.
What are your plans for the Rosie & Me range of patterns?
 Initially we focused on selling the patterns in Holland and Belgium and therefore only developed them in Dutch. However, we have been getting multiple requests for English versions as well, so we started translating the current collection earlier this year (2017). Most of our collection is available in both languages now, making it possible to start selling worldwide. Experiencing company growth and feedback from sewists from around the globe is very exciting!
 This past year I have also started to give Workshops. I love the energy which I receive from the workshops. The idea is to hold workshops throughout the year, scheduled dates currently extend through the spring of 2018.
 More plans for the new year?  Translating the Amber & Charlie dress and working on extending our collection! (YAY!) I really can't wait to do so and have so many great ideas. But being a small company which is growing internationally, you sometimes need to step back, get everything organized, and then grow again.
 It's exciting to have the patterns available in the UK now as well. Thank you Susan!
Esther
Thank you Esther for introducing the Rosie & Me patterns, we look forward to see the range grow over the next year.  Take a look at the full range of patterns here.
Happy sewing ...
Susan
7.11.17