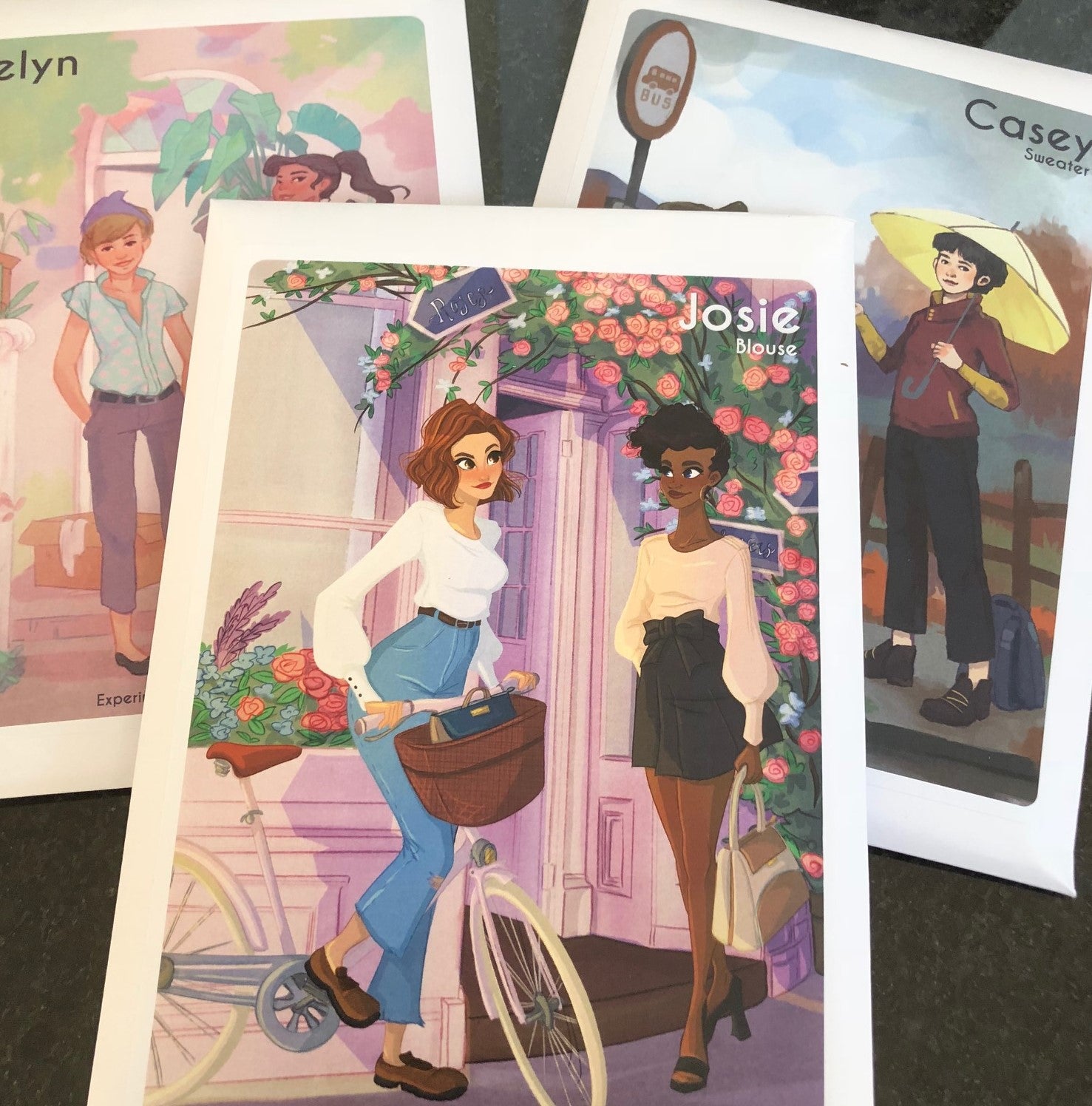 NEW PATTERNS FROM EXPERIMENTAL SPACE ....
 So ... we are very pleased to be stocking this new range of patterns designed by the lovely Andrea from Experimental Space Patterns, 
 We caught up with Andrea to find out a bit more out her and her patterns
 At the moment there are 3 patterns in the range.  Evelyn - blouse/top, Josie - blouse and Casey - sweater.
Andrea introduced herself as.....
"Hi! I'm Andrea and I run Experimental Space. I've always enjoyed crafty hobbies and as of about 10 years ago started writing knitting patterns in my free time. I have since moved into sewing patterns and decided as of January to leave my job to focus on my sewing patterns full time. I absolutely love what I do and I've found the sewing community to be so amazingly supportive which makes it such a wonderful environment to work in.
My main focus when putting a new design together is that it will be enjoyable to make and rewarding to wear. With that in mind, I try to include enough interesting details while still keeping the instructions clear and easy to follow.
I love to encourage sewists to expand their skills and try new things. I think a lot of sewists assume they aren't capable of making certain things, but I believe a well-written pattern with clear instructions, and further help if they want it, will build confidence in their sewing and show them they can"
A bit more about the patterns ....
Josie blouse has a trio of pretty pleats run over the shoulder and down into the sleeve.  Opening up into a floaty bishop sleeve finishing with extended cuffs.  Ideal for any fabric with a nice drape - viscose, rayon, crepe, georgette or any light to medium-weight woven fabric.
 Evelyn Blouse/Top is a beautifully drapey blouse with an upright collar flowing down to a flattering v-neck front detail and set in sleeves finished with pretty slit openings on the cuffs.  Suitable for any light to medium-weight woven fabric with plenty of drape.  We're going to try it in the Liberty Tana Lawns which will be a great match. 
Casey Sweater a pretty pullover sweater with button details at the neck, long shaped cuffs and comfortable deep pockets.  Make up in Frency terry or sweatshirt or any knit material with a bit of stretch.  Contrast fabric in a lighterweight frech terry or ponte roma etc etc.
 Paper patterns, well presented in delightfully illustrated A5 size outer envelopes.
All 3 patterns are available here on the website  at just £14.00 each.
We look forward to seeing what Andrea will be bringing out next.  Enjoy!
Susan