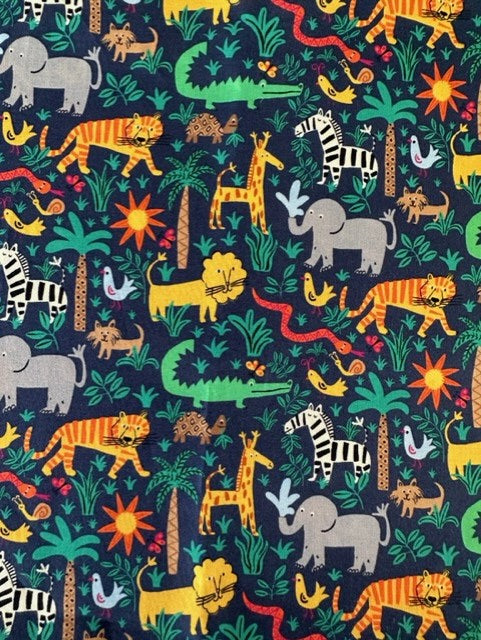 Liberty Animal prints at Sewbox
Who doesn't love a delightful print depicting animals .... and we have a good selection of Liberty Tana Lawn Animal prints here at Sewbox to choose from.
Latest to be added is Louie's Jungle from the Liberty AW23 (Autumn/Winter) Paradise Lands Collection. 
This charming conversational design is inspired by Louie the dog, who dreams of being transported to the jungle.  The animals he encounters are playfully painted in gouache with a bold graphic appearance. 
Louie's Jungle is a delightful animal print for so many projects.
Ideal for any dressmaking, quilting or crafting project - even home-styling. Shirts, tops, dresses, skirts, shorts, lounging wear, p'j's, make-up bags, hair scrunchies, lamp shades, applique, bunting, quilting, bedroom accessorizing  etc. etc. etc.
Sewbox is stocking Louie's Jungle in 3 colourways and we also have pieces of all 3 colourways in one of our bespoke trademark 'Sewbox Scrap packs'.
Our 'Sewbox Scrap packs' are suitable for all smaller sewing projects and are designed to facilitate and inspire. Some suggestions for the Scrap packs are:  make-up bags, hair scrunchies, hair bows, applique, bunting, quilting, covered buttons, accessorizing bows etc, face masks, eye masks etc. etc
Each Piece in the Scrap pack is 33cm x 25cm (13" x 10") and there are 3 in the pack.
Also from the new Autumn Winter 23 Collection is Liberty Tana Lawn Etta
Etta is a charming print of fallow deer prancing in an imaginary forest full of flora and berries. A modern interpretation of a nostalgic fairytale scene. Actually a pale pink background!  Need a better image!
Some of the other Liberty Tana Lawn prints depicting Animals follow.  Just press the Animals filter on the website.  If you would like a sample of any of the fabrics, jusk ask. 
The ever popular Queue for the Zoo & Quey 2 ....
Hullabaloo in 3 coulourways ....
Another Jungle print 'Tou-can Hide', Gymkhana & Winston (Lizard print)
Even Christmas fabrics ....
 Happy Summer Sewing ......
Susan