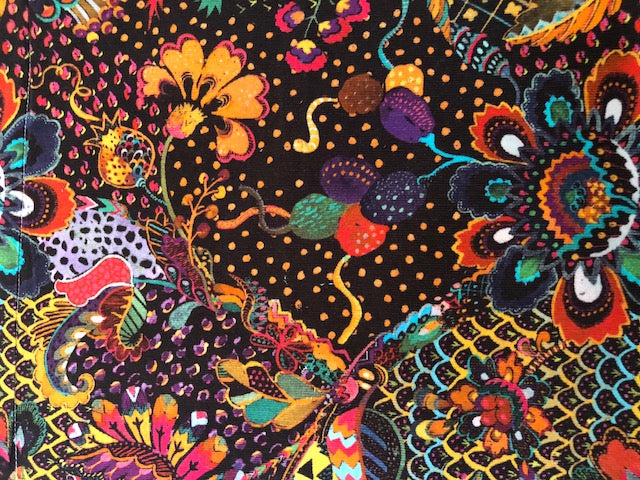 Dramatic new Liberty needlecord prints
Liberty Grand Bazaar cord is available in 3 colourways.
Vibrant Orange/Bronze tones ....
Makes up beautifully into a short straight skirt
Stunning turquoise and pink tones ...
and bright florals but on an ivory background give a completely different look ....
 Just 1M makes up the skirt in a Size 12.  Pick out one of the colours in the fabric for a plain top and matching tights.  
 We've also added Liberty Anise Cord in 2 colourways.....
Orange and pinks .....
this little top/pinafore for a 1-2 year old takes under 1/2M
and Anise in greens
this little pinafore for a 2 year old takes under 1M
The lovely Lynda has used a co-ordinating bias trim at the bottom off these dresses and matching buttons to bring out the vibrant colours in these fabrics
Introductory price of  £20/M for the Grand Bazaar and £19/M for the Anise
143cm wide  100% cotton  Machine washable at 30 degrees    Don't tumble
Liberty cord is light to medium weight, soft and drapes beautifully.
Hopefully some inspiration for Happy autumn sewing ...
Susan