We charge a simple flat rate of £2.95 for all UK orders. Delivery is free on all orders of over £100.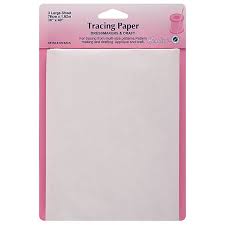 Plain Tracing Pattern Paper - Hemline - 3 x 76cm x 102cm
Transform patterns into garments and trace every little detail with Hemline Dressmakers Tracing Paper.
Measuring 76 x 102cm, there are three large sheets of vegetable craft paper. The tracing paper is ideal for tracing patterns, dressmaking and craft. You'll be able to transfer your very own designs, as well as trace multi-size patterns.
The Hemline range brings a huge variety of essential sewing tools and accessories, perfect for every project. Create professional quality designs with ease.
Size: 76cm x 1.02m (30 x 40 inches)
Three sheets
Great for tracing multi-size patterns
Ideal for pattern making, drafting, applique and craft
Hemline Dressmakers Tracing Paper 3 Sheets