We charge a simple flat rate of £2.95 for all UK orders. Delivery is free on all orders of over £100.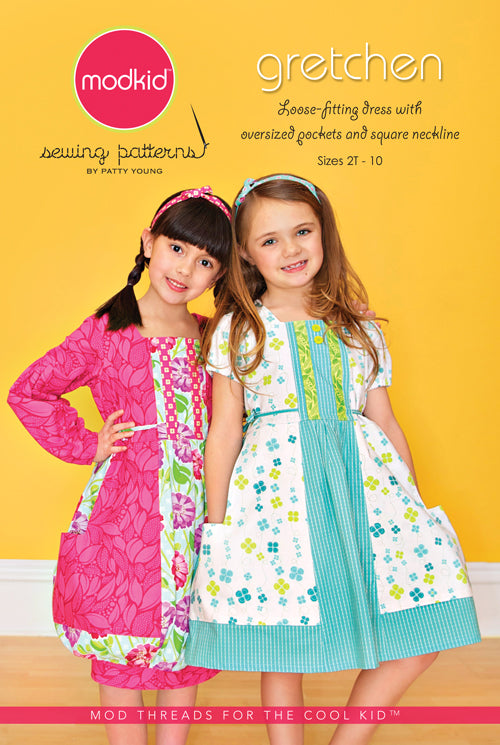 ModKid - Gretchen - Euro-style Dress
GRETCHEN
Loose-fitting dress with oversized pockets and square neckline
Sizes 2T-10
Gretchen is designed with little girls in mind... it has a comfy, loose-fitting style and some funky oversized pockets for her many treasures! Make it with short cap sleeves or poofy long sleeves. Choose a straight hem or a bubble-style skirt. Embellish the bodice with coordinating ribbons and use all those designer fabrics to make it unique and special.
SUGGESTED FABRICS: quilting cottons, shirtings, voiles, gauzes, lawns, linens and muslins, 44"/45" wide.
FABRIC REQUIREMENTS: Fabric #1= bodice center, skirt panels & ties. Fabric #2= sleeves, pockets & bodice sides.
NOTIONS:
Views B and D only: 1/4"-wide elastic for the bubble sleeves (1/2 yard for sizes 2T - 7 or 2/3 yard for sizes 8/9 and 10). Optional for all views: Embellishments for center front and back panels. Try Patty Young's line of Jacquard Ribbons.