We charge a simple flat rate of £2.95 for all UK orders. Delivery is free on all orders of over £100.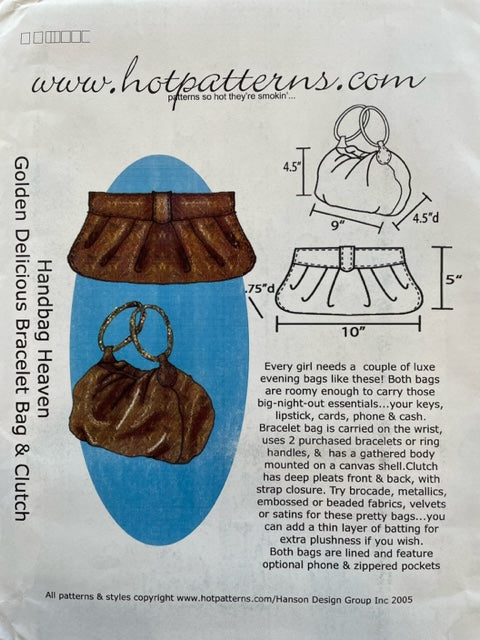 Hot Patterns - Handbag Heaven Golden Delicious Bracelet Bag & Clutch
Every girl needs a couple of luxe evening bags like these! Both bags are
roomy enough to carry those big-night-out essentials...your keys, lipstick,
cards, phone & cash. Bracelet bag is carried on the wrist, uses 2 purchased
bracelets or ring handles, & has a gathered body mounted on a canvas shell.
Clutch has deep pleats front & back, with strap closure. Try brocade, metallics,
embossed or beaded fabrics, velvets or satins for those pretty bags...you
can add a thin layer of batting for extra plushness if you wish. Both bags are
lined and feature optional phone & zippered pockets.
Shopping List
Bracelet Bag needs around 1/2 yard of 60" wide fabric, and the same in a mount
fabric & lining.
Bracelet Bag also required 1 x 6" zipper, 1 x 12" invisible zipper, and 2 x 
bracelets/rings, about 4" in diameter.
Clutch needs around 3/8 yard of 60" wide fabric and the same in mount fabric & 
lining.
Clutch also needs 1 x 6" zipper and 1 magnetic bag closure.
Both bags can be lightly quilted...you will ned the same amount of batting/wadding
as fabric.