We charge a simple flat rate of £2.95 for all UK orders. Delivery is free on all orders of over £100.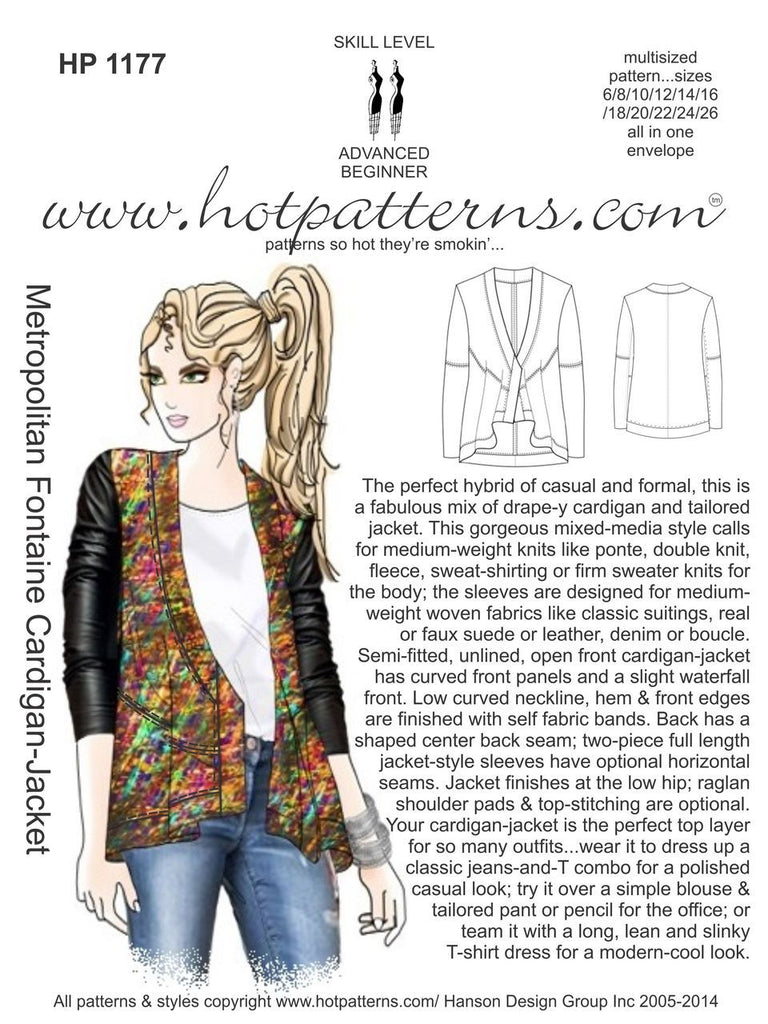 Hot Patterns 1177 - Metropolitan Fontaine Cardigan-Jacket
The perfect hybrid of casual and formal, this is 

a 
fabulous mix of drape-y cardigan and tailored jacket. 

This gorgeous mixed-media style calls for medium-weight
 knits like ponte, double knit, fleece, sweat-shirting or firm 
sweater knits for the body; the sleeves are designed for 
medium-

weight woven fabrics like classic suitings, real




or faux suede or leather, denim or boucle.





Semi-fitted, unlined, open front cardigan-jacket 

has curved
front panels and a slight waterfall front. Low curved neckline,
hem & front edges are finished with self fabric bands. 

Back has a 

shaped center back seam; two-piece full length




jacket-style sleeves have optional horizontal 

seams. Jacket 
finishes at the low hip; raglan shoulder pads & top-stitching 
are optional.



Your cardigan-jacket is the perfect top layer

 for so many outfits
...wear it to dress up a c

lassic jeans-and-T combo for a polished




 casual look; try it over a simple blouse & t

ailored pant or pencil
 for the office; or 

team it with a long, lean and slinky 

T-shirt dress
 for a modern-cool look.

Shopping list

All sizes 

6-8-10-12-14-16-18-20-22-24-26 

need around 2 

1/4

 yards
or 205cm of knit fabric for the body of the cardigan-jacket, plus 
1 yard or 92cm of woven fabric for the sleeves.

1 pair of raglan shoulder pads is optional but recommended!
All fabric amounts are for 60" or 150cm wide fabric.

Multi-sized - sizes 6 to 26. Click here for a detailed Hot Patterns Sizing Chart.
Confused by yards? Click here for a yards-to-metric conversion tool!