We charge a simple flat rate of £2.95 for all UK orders. Delivery is free on all orders of over £100.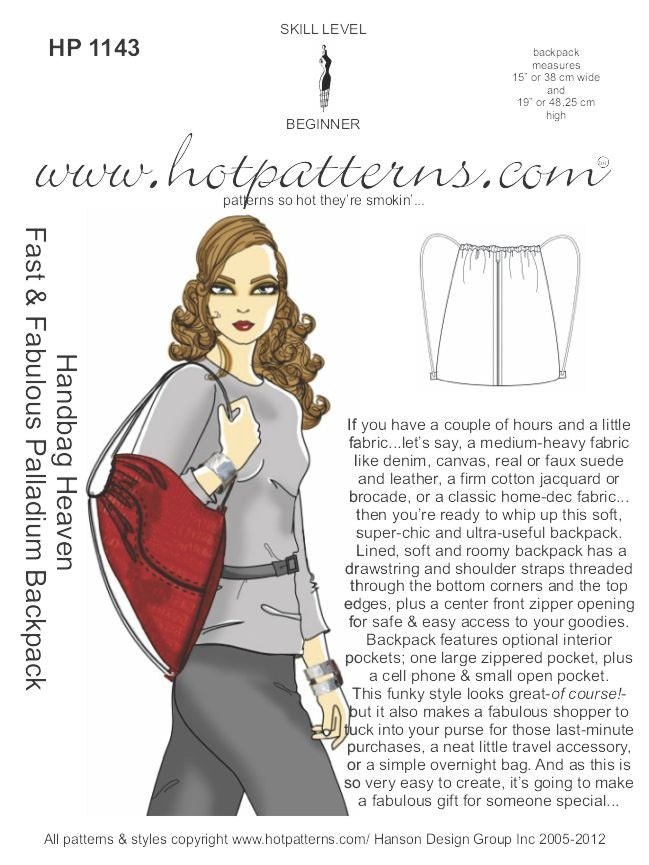 Hot Patterns 1143 - Handbag Heaven Fast & Fabulous Palladium Backpack
If you have a couple of hours and a little fabric...let's say, a medium-heavy
fabric like denim, canvas, real or faux suede and leather, a firm cotton
jacquard or brocade, or a classic home-dec fabric...then you're ready to
whip up this soft, super-chic and ultra-useful backpack.

Lined, soft and roomy backpack has a drawstring and shoulder straps 
threaded through the bottom corners and the top edges, plus a center 
front zipper opening for safe & easy access to your goodies.

Backpack features optional interiorpockets; one large zippered pocket, plus
a cell phone & small open pocket.

This funky style looks great- but it also makes a fabulous shopper to tuck 
into your purse for those last-minute purchases,a neat little travel accessory,
or a simple overnight bag. And as this is so very easy to create, it's going to 
make a fabulous gift for someone special...

Shopping List

For the backpack, you'll need around 3/4 yards/ 68cm of fabric; you'll also need 
the same amount in a soft-ish fusible interfacing and lining. To complete the bag, 
you'll need 1x18" or 45cm long chunky zipper, 5 yards or 4.5m narrow 
(about ½" or 1.25cm to 3/4" or 2cm wide/diameter) cord or sturdy ribbon for the 
drawstring/straps, plus 1 x 10"/25cm zipper to match your lining.

All fabric amounts are for 60"/150cm wide fabric
Skill Level:
Beginner
Confused by yards? Click here for a yards-to-metric conversion tool!