We charge a simple flat rate of £2.95 for all UK orders. Delivery is free on all orders of over £100.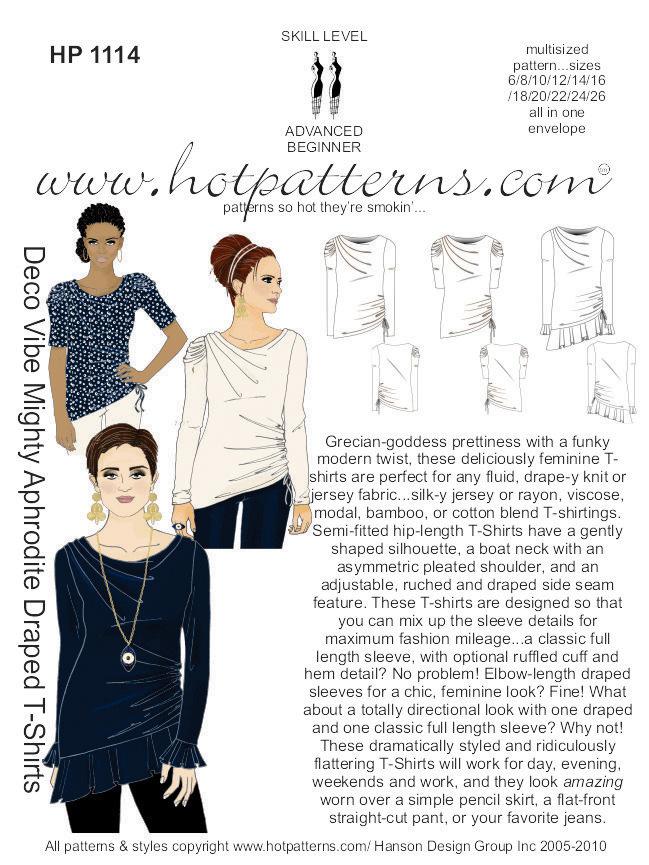 Hot Patterns 1114 - Deco Vibe Mighty Aphrodite Draped T-Shirts
Grecian-goddess prettiness with a funky modern twist, these deliciously feminine T-shirts are perfect for any fluid, drape-y knit or jersey fabric...silk-y jersey or rayon, viscose, modal, bamboo, or cotton blend T-shirtings. Semi-fitted hip-length T-Shirts have a gently shaped silhouette, a boat neck with an asymmetric pleated shoulder, and an adjustable, ruched and draped side seam feature. These T-shirts are designed so that you can mix up the sleeve details for maximum fashion mileage...a classic full length sleeve, with optional ruffled cuff and hem detail? No problem! Elbow-length draped sleeves for a chic, feminine look? Fine! What about a totally directional look with one draped and one classic full length sleeve? Why not! These dramatically styled and ridiculously flattering T-Shirts will work for day, evening, weekends and work, and they look amazing worn over a simple pencil skirt, a flat-front straight-cut pant, or your favorite jeans.
Skill Level: Advanced Beginner
Fabric Requirements: For the long sleeved, ruffled hem version, all sizes need around 2 3/4 yards / 250 cm fabric. For the draped elbow-length sleeved & asymmetric sleeved versions, all sizes need around 2 3/8 yards 218 cm of fabric. All fabric amounts are for 60"/150cm wide fabric.
Multi-sized - sizes 6 to 26. Click here for a detailed Hot Patterns Sizing Chart.
Confused by yards? Click here for a yards-to-metric conversion tool!