We charge a simple flat rate of £2.95 for all UK orders. Delivery is free on all orders of over £100.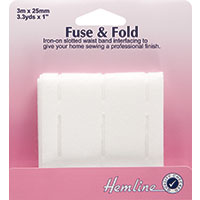 Fuse & Fold Waistband interfacing - 3M x 25mm
Fuse and Fold Waistband Lining 3M x 25mm pack
Slotted waistband interlining, iron-on. Size indicates width of finished waistband. 1 sheet 3M x 25mm.
Read our beginner's guide to interfacing on the Sewbox blog.