We charge a simple flat rate of £2.95 for all UK orders. Delivery is free on all orders of over £100.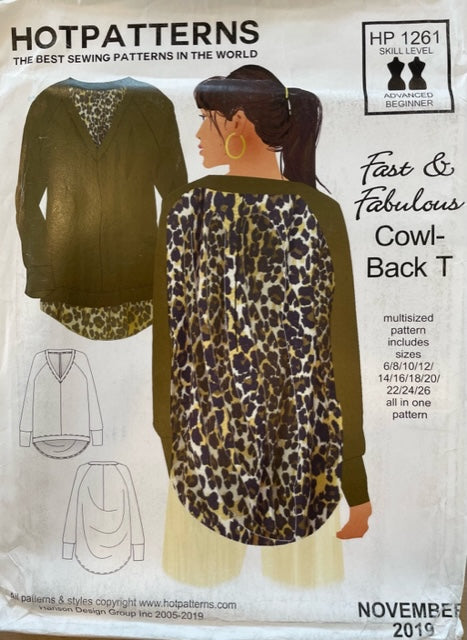 Hot Patterns 1261 - Fast & Fabulous Cowl-Back T
This is a 'cousin' to our best-selling
Blouse Back T, so if you're a fan of that pattern, you'll love this one...
This version has a semi-fitted shape, updated with a 'V' neckline, a center front seam and full length darted raglan sleeves; neckline, body hem and sleeves are finished with a knit band. T-shirt back is designed for drape-y woven fabrics but you can (of course) use a knit if you'd prefer. Back features a cowl darted into the neckline and a narrow curved hem.
Wear this to soften a tailored pant or to dress up your favorite jeans. Looks great worn as-is but also works under a cardigan, jacket or vest...let the back hemline peek out below your top layer!
All sizes 6-8-10-12-14-16-18-20-22-24-26 need 1.5 yards or 138cm knit fabric for the body, sleeves, neck and sleeve bands.
For the woven back, sizes 6-8-10-12-14-16 needs 1.5 yards or 138 cm fabric; sizes
18-20-22-24-26 need 1.75 yards or 160 cm fabric.
That's it, nothing else! Fabric requirements are for 60°/150cm wide fabric.
This pattern is drafted for lightweight knit fabrics with a woven back. Use knits like linen or rayon jersey, devore velvet, a lightweight T-shirt or sweatshirt knit, or a really really lightweight sweater knit.
Please avoid anything like ITY or slinky knits which will stretch too much
Use drape-y wovens like crepe, challis, chiffon, georgette or soft lace for the back.