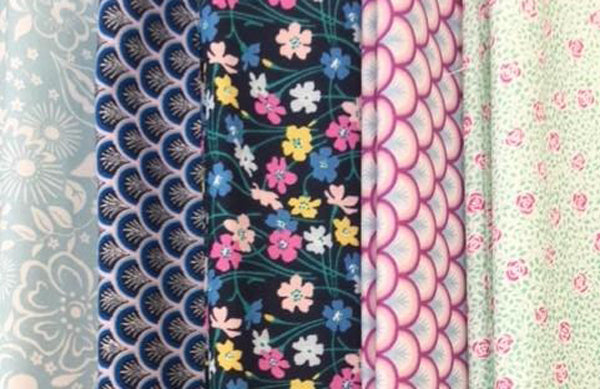 Calling all art lovers! Find a Liberty fabric that suits your style
From the 1920s Art Deco period to the 'Summer of Love' and beyond, Liberty London draw from different artistic styles to inspire their myriad of fabric designs. Here, we take a look at what those are to help you find the perfect fit for your next project. 
Art Deco Period - the 'Deco Dance' Collection
The Art Deco period was a period of artistic inspiration that reached its heights between 1910 and 1940. During that period, art deco inspired architecture and textiles as well as painting and ornamentation. Liberty's 'Deco Dance' collection is inspired by the avant-garde nature of this period, which was a time of widespread creative experimentation.
With bright and quirky designs perfect for summer, this collection is designed in the London studio and offers 15 options ranging from delicate botanical motifs to bold pop florals. The collection's colour palette spans from ice cream pastels to the darkest inky blues, replicating the feeling of summer garden parties that carry on through the midnight hours. 
The collection will suit sewers who enjoy symmetrical and geometric patterns, and we've seen these fabrics used brilliantly on clothes as well as curtains and upholstery.
Click here to shop the 'Deco Dance' collection.
The Liberty Store - The 'Emporium' Collection
As anyone who has visited the Liberty store in person knows, the historic architecture and interiors are a sight to behold. Now, fans of the Liberty store can own their very own fabrics inspired by the designs on show.
'Emporium' is a quilting collection boasting a mix of floral, paisley and geometric designs which draw from ornately carved wooden details, hand-crafted tilework, and the store's beautiful flower stall.
The collection is available in three distinct colour stories, perfect for the modern interior. Regal blue and mustard give a nod to the tiled interiors, while an exuberant multicolour story is inspired by the oriental rug room. Finally, a monochromatic colour story is balanced with soft pink highlights, paying homage to Liberty's timbered exterior.
 Click here to shop the Emporium Collection.
The Summer of Love - the 'Carnaby' Collection
Fans of 1960s and 70s styles will be delighted with Liberty's all-new 'Carnaby' Collection, which draws inspiration from the music, art and fashion of the Summer of Love and features stunning depictions of floral life and forest landscapes.
The collection features original designs of this period from the Liberty Archive, and is influenced by a colourful patchwork that was painted on Carnaby Street's pavement during the 1970s. For sewers looking to channel the free-spirited, optimistic mood of that era, this is the collection to take advantage of while stocks last! 
Click here to shop the Carnaby Collection.
— 
At Sewbox, we are proud to be an Authorised Retailer Liberty Fabrics and offer a wide range of unusual Liberty fabrics such as Liberty Needlecord, Lantana and Jerseys, as well as the ever-popular Tana Lawn range. Whatever your personality, we have a design to suit you!