We charge a simple flat rate of £2.95 for all UK orders. Delivery is free on all orders of over £100.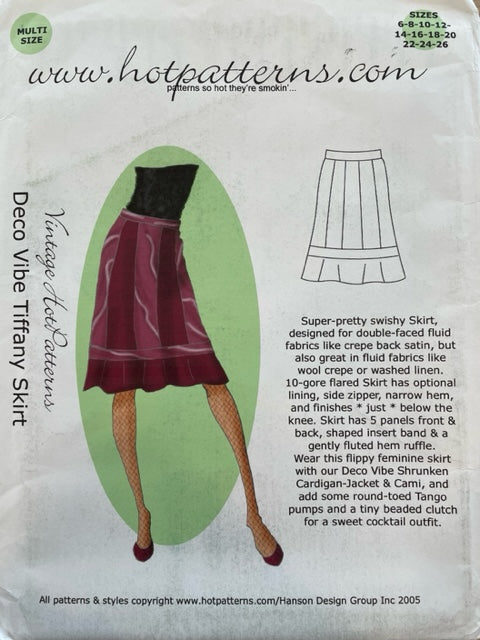 Hot Patterns - Deco Vibe Tiffany Skirt (Sizes 6-26)
Super-pretty swishy Skirt, designed for double-faced fluid fabrics like wool crepe
or washed linen. 10-gore flared skirt has optional lining, side zipper, narrow hem,
and finishes *just* below the knee. Skirt has 5 panels front & bac, shaped insert band
& a gently fluted hem ruffle. Wear this flippy feminine skirt with our Deco Vibe
Shrunken Cardigan-Jacket & Cami, and add some round-toed Tango pumps and a tiny
beaded clutch for a sweet cocktail outfit.
Shopping List
Sizes 6-8-10 need around 2 yards of fabric; sizes 12-14-16-18 need around 2 and a half
yards of fabric; sizes 20-22-24-26 need around 3 yards of fabric. You will also need
a 10" invisible zipper, a hook and eye and 1/2 yard of interfacing. All yardages are
for 60" wide fabric.