We charge a simple flat rate of £2.95 for all UK orders. Delivery is free on all orders of over £100.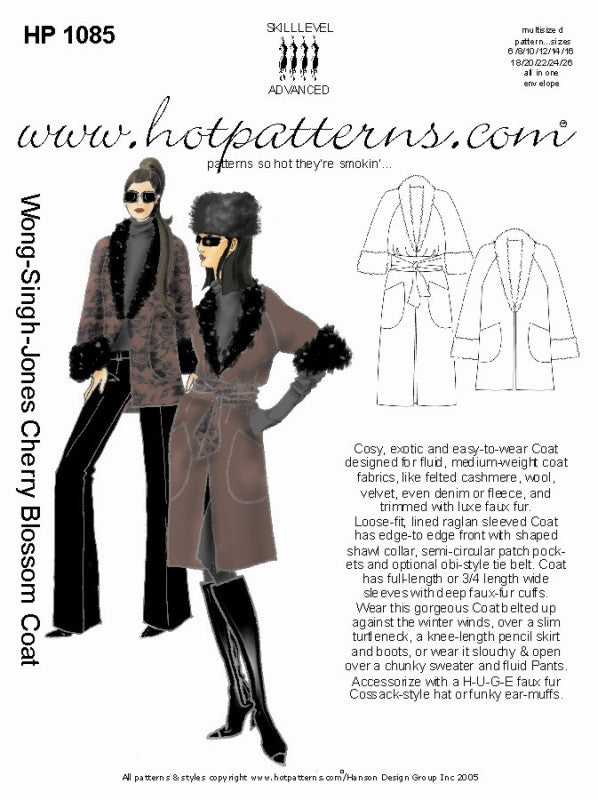 Hot Patterns 1085 - Wong-Singh-Jones Cherry Blossom Coat
We have run out of stock for this item.
Cosy, exotic and easy-to-wear coat designed for fluid, medium-weight coat fabrics, like felted cashmere, wool, velvet, even denim or fleece, and trimmed with luxe faux fur. Loose-fit, lined raglan sleeved Coat has edge-to edge front with shaped shawl collar, semi-circular patch pockets and optional obi-style tie belt. Coat has full-length or 3/4 length wide sleeves with deep faux-fur cuffs. Wear this gorgeous Coat belted up against the winter winds, over a slim turtleneck, a knee-length pencil skirt and boots, or wear it slouchy & open over a chunky sweater and fluid Pants. Accessorize with a H-U-G-E faux fur cossack-style hat or funky ear-muffs.
Skill Level: Advanced
Fabric Requirements: Sizes 6-8-10 need around 3 1/2 yards of fabric and 3 yards of lining; sizes 12-14-16-18 need around 4 yards of fabric and 3 1/2 yards of lining; and sizes 20-22-24-26 need around 4 1/2 yards of fabric and 4 yards of lining. All sizes need around 1/2 yard of faux fur. All yardages are for 60" wide fabric.
Multi-sized - sizes 6 to 26. Click here for a detailed Hot Patterns Sizing Chart.
Confused by yards? Click here for a yards-to-metric conversion tool!