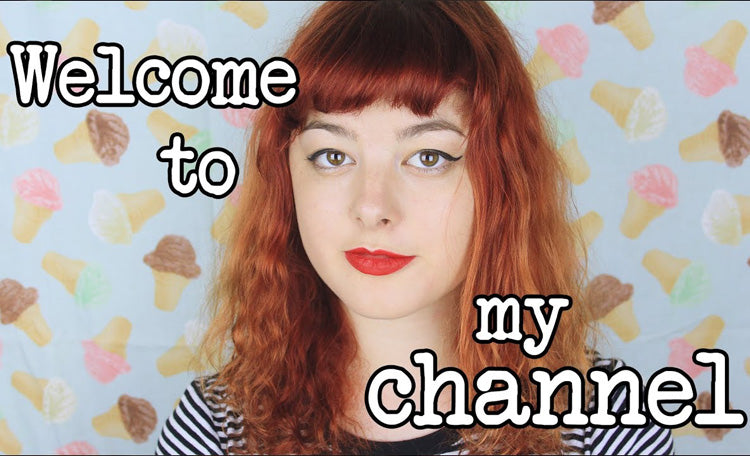 The top 4 sewing vloggers on YouTube
It's now easier than ever to learn your craft from the comfort of your own home. We've chosen our top 4 favourite YouTube channels that can help you take your sewing skills to the next level!
Annika Victoria

 
Annika is a twenty-something creator, passionate DIY'er and community leader from Sydney, Australia, whose YouTube channel and website blog has useful tutorials to suit both experienced sewers and those who are starting out as complete beginners.
Annika's videos teach you how to reinvent your wardrobe by making a range of clothes and accessories from t-shirts, blouses and pants, to bags and even underwear and bralettes. The underlying themes across her work are re-useability and cost efficiency - you'll often see Annika recreating expensive high-street items for herself from materials she's picked up on the cheap.
Sometimes it doesn't work out perfectly and that's okay - she's all about seeing the beauty and humour in the imperfections in life!
Coolirpa

 
 With over a 1.8 million YouTube followers to her name, famous fashionista Coolirpa (real name April) is the most popular entry on our list, and for good reason. One of her most-watched videos, "1 sweater, 16 ways to wear it!", has garnered more than 4 million views since its posting in 2011. 
April is all about upcycling old clothes into something new, with her most popular episodic video series being her 'Thrifted Transformations' which see vintage garments re-worked into new, on-trend pieces.
April uploads new videos weekly, so you'll never be short of inspiration!
Sew Anastasia

 
Anastasia Chatzka is Chicago-based fashion designer who specialises in fun, flirty dresses, having coined the term #soanastasia to reflect her style. She was born in Detroit, and those early years spent exploring the expansive Detroit music & art scene helped shape the womenswear designer she is today. 
Her Youtube channel is a one-stop shop for anyone looking to learn from a real working professional, with tutorials ranging from the simple 'How to sew a button onto absolutely anything' to more advanced work like creating a winter coat from scratch or altering and reshaping your old clothes.
And for any readers that are passing through Chicago, you can learn from Anastasia at her studio by taking one of her classes. More info at sewanastasia.com.
MADE Everyday

 
Dana, mum-of-three from Austin, Texas, is here to help you fit sewing into your busy schedule. She knows that it's not always easy to find time in your day to practice your craft - especially with family and work commitments - which is why her favourite projects are the simple ones using everyday items, leaving plenty of room for your own twists and style.
Her channel doesn't just teach you how to make garments for yourself, but also gifts for others such as vinyl and tote bags, zipper pouches and pillowcases. Everyone knows the best presents are home made!
— 
If you've found a video you like the look of and are ready to jump in, Sewbox provide everything you need to begin your sewing journey or to stock up on beautiful materials needed for your next project. Take a look around!