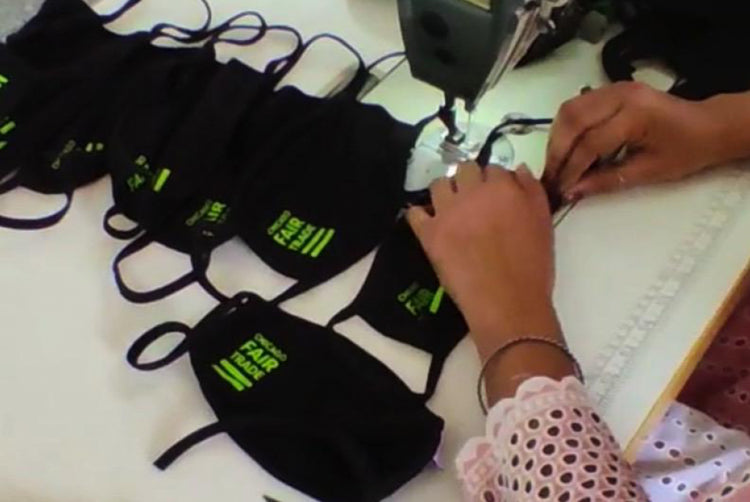 The most inspiring sewing projects to emerge from 2021 so far
Despite much of the world continuing to battle the Covid-19 pandemic under strict lockdown measures, there have been multiple stories of positive creativity emerging from the sewing community. In this month's blog post, we travel across the world to bring you stories of inspiring sewers doing great things. 
It's projects like these that make us proud to be part of the sewing community. Get ready to be inspired to start your own New Year project!
MTS Accessories - Cape Town, South Africa
After Esona Mtshengu lost her job at a travel company during the lockdown period, she wasn't willing to sit back and do nothing. Instead, she used YouTube tutorials to learn to sew, and begun creating her own fashion business.
In this interview with IOL, Mtshengu said she wasn't happy just buying and re-selling cheap clothes that she knew people wouldn't love. Instead, she found her passion in designing and manufacturing her own silk products, allowing her to inject her own personality and flair into her business.
"My mom owned a domestic sewing machine and it was just collecting dust," she said.
"I started watching YouTube videos, like how to make satin bonnets and hair protection stuff. Then I told my mom that we need to take the machine out; I wanted to try and make these products."
In the future, Mtshengu wants to open a factory and provide employment for others who might have been affected the same way she was. Inspirational stuff. 
If, like Mtshengu, you're interested in using YouTube to learn some sewing projects this year, check out our pick of some of the best in this blog post. 
Masks Without Borders - Delhi, India and Chicago, U.SA
We love this project for many reasons, one being that it uses sewing to help those in need, and another that it brings people together from across the planet. 
The Masks Without Borders campaign is supplying communities hit hard by coronavirus in Chicago and India with thousands of reusable cloth masks, thanks to amazing work by three local nonprofits: the Soondra Foundation, WORK&SHELTER and Chicago Fair Trade.
Each mask is created by seamstresses in India and costs about $2.50 to produce. They are double-layer and made out of the organic cotton scraps taken from garments produced in WORK& SHELTER's Delhi-based facility.
"These are scraps that we don't have anything else to do with," said Theresa VanderMeer of WORK&SHELTER in this interview.
"This is waste material that is getting a second life as mask."
One of the many reasons we love to hear about projects like this is the sustainable, zero-waste nature of the production cycle. If you're new to the topic of sustainable fashion, our blog post here is a great starting point.
Community, collaboration and charity all in one. We're a huge fan of the work these guys are doing! If you'd like to learn more or donate, follow the link above.