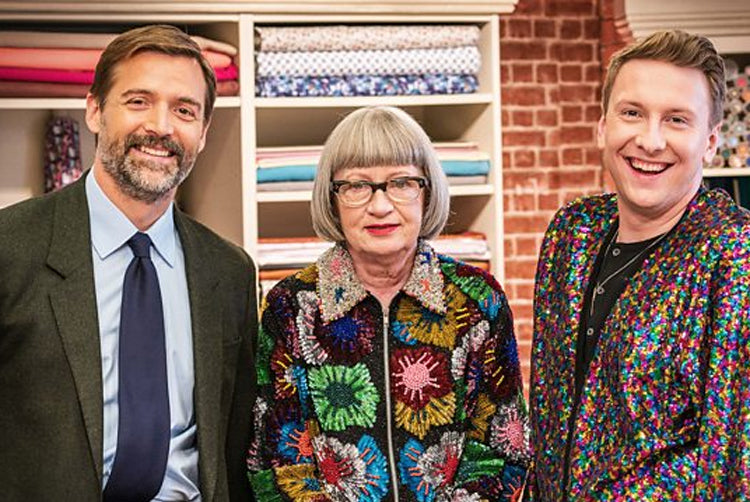 The Great British Sewing Bee: how, when and why to watch the new season!
Needles at the ready! The sixth season of The Great British Sewing Bee is nearly here. Here's all the details, including what we know about the new contestants.
When's it on?
We have a date! The new season starts on Wednesday 22 April on BBC One, and all episodes will be available on BBC iPlayer after they've aired.
How many episodes are there?
Show runners have confirmed 10 episodes for the new season - that's 10 weeks of entertainment and sewing inspiration to get us through the lockdown period!
What about the cast and crew?
Top UK comedian Joe Lycett returns as the series' host, alongside past judges Esme Young and Patrick Grant. This year, 12 budding contestants will compete for the title of Britain's best home sewer - that's an increase in competition on last year's 10.
Here's what we know about who's in the running. 
Angila, 62 - a retired teacher, who enjoys both sewing and practicing mindfulness. We wonder if she's read our article on the links between the two! 
Fiona, 56 - Fiona first began sewing with her own mother, and now uses the craft to create items for herself and her own children. 
Clare, 37 - a Medical Consultant who enjoys working with vintage 1940s and 50s styles.
Ali, 48 - a Paramedic who also enjoys golf, and stitches her own golfing attire to stand out on the green.
Therese, 64 - an ex-teacher who enjoys upcycling clothes and creating sustainable items. From what we've heard about the new season so far, it will feature a particular focus on sustainable sewing - you can learn more about that topic with our article here. 
Peter, 40 - fashion icons such as Alexander McQueen and Vivienne Westwood have ignited Peter's love for sewing, and turned him into a modern-day 'sewing rebel'!
Nicole, 42 - a jewellery designer whose Trinidadian roots can be seen in her use of bright metals and bold designs. We're looking forward to seeing how Nicole's metalwork skills translate into this series' tasks!
Matt, 43 - anything goes for Matt, who makes outfits for drag shows in the UK and has experience stitching garments for both men and women.
Mark, 42 - do you know any personal bankers who have a love for sewing? If not, meet Matt! We have a feeling crafting formal attire will be a strong skillset in this contestant's arsenal.
Alex, 24 - the youngest contestant in Series 6, Alex is a science student who has crafted outfits for his own ballroom dances. 
Hazel, 26 - another contestant in her twenties, Hazel finds sewing a great way to relax in her down time. Check out our article on why more and more young people are taking up sewing.
Liz, 37 - Liz is a Product Manager who we've heard tends to prefer crafting with gothic black and greys. We wonder if Joe Lycett's colourful personality will inspire her to broaden her palette during Series 6!
----
Looking for sewing equipment, fabrics, and haberdashery? Take a look at our huge range of sewing supplies!