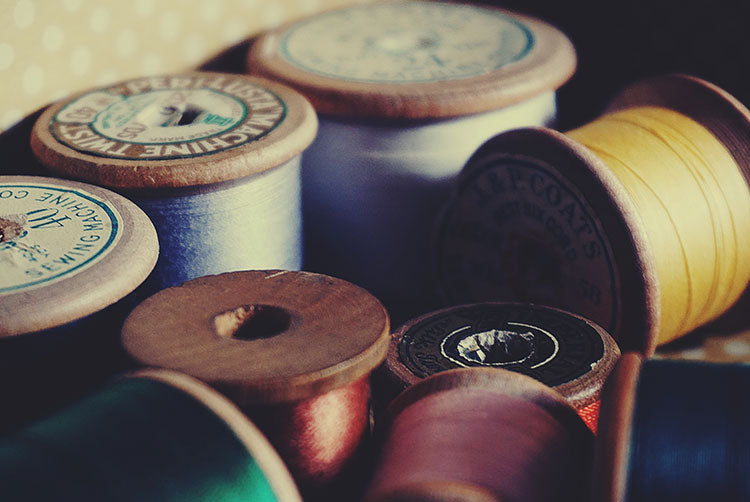 Sewing hacks: 8 tips to make your next project a breeze
We've compiled a list of our 8 favourite tips and tricks that could make life a whole lot easier! Next time you sit down to sew, see if you can give these a go.
1. Use steel wool to keep pins and hand sewing needles sharp.
Dull needles can slow down even the most experienced of sewers. To keep them sharp, make a steel wool pin cushion by placing a small ball of steel wool in some cloth and sewing it closed. Then, when you're done with your pins and needles, stick them in the cushion to keep them handy while simultaneously keeping them sharp. 
2.
Cost-saving idea would be to

ditch traditional batting - use old quilts instead.

Old

quilts

are a great replacement for when you don't feel like shelling out for expensive batting when making your next quilt. Blankets work just as well, and can make the quilt easier to fold when you're done.
3. Say goodbye to lost needles.
This one works especially well for those of us without perfect eyesight. To keep pesky fallen needles from hiding from you after a long project, use a magnet to scan your work area. No need to be scared of walking round the house in bare feet!
4. Don't get caught out - TEST your machine before starting
Although this one 'seams' simple (get it?!), it's saved us a bunch of times. Before starting any project, make sure you're testing your stitches. Grab a piece of scrap cloth to test whether or not your machine is set up correctly, or you could end up finding out the hard way and ripping out the stitches once you've properly begun.
5. Having trouble pressing buttons? Hair straighteners to the rescue.
You don't always need specialised tools to get the job done. Your trusty hair straighteners can be used to press fabric between buttons and other embellishments.
Check them out on a scrap of fabric first to make sure not too hot and use a cloth between your project fabric and the straighteners.
6. Use a new sewing machine needle for each new Project
This is an old one but using a new needle for a new Project makes all the difference.  Also use the correct needle for the job - be it a Univeral, Sharp, Ball Point, Stretch, Denim, Leather needle etc.
7. The 3-point system for happy scissors. 
When it comes to keeping your scissors nice and sharp, there's only 3 things you have to remember. Only cut fabric with them (yes - that means DON'T use your scissors to cut pins!), make sure they're kept clean, and dry them off if they ever get wet. Moisture can lead to dull scissor blades, which can slow down your project.
8. Head to the mug cupboard to stop tangled thread.
It can be a real pain working with a cone of thread that keeps falling over or getting tangled. Putting the cone into a mug will stop it bouncing around and getting in a knot, and let you focus on the task at hand.
So, now you're armed with our top tips for your next project, why not head to our online store to gather all the materials you need. Happy sewing!