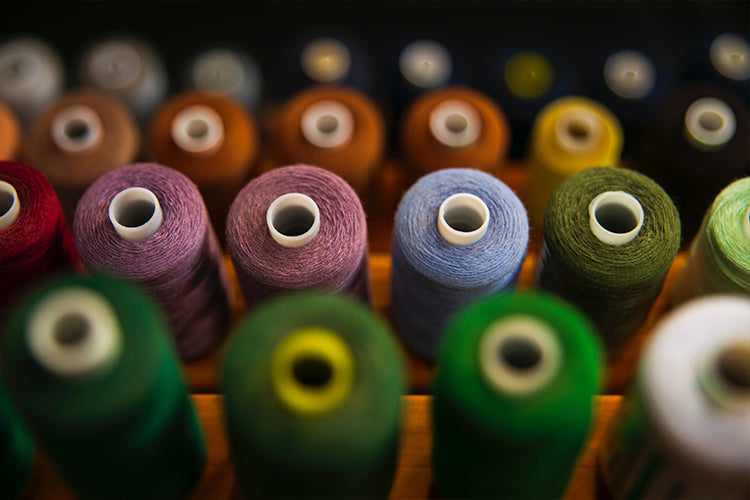 Sewing for a sustainable planet: how to use your craft for good
It's no secret that the clothing industry - or any industry that involved mass-producing goods at large scale - can have a detrimental impact on our planet.
The industrial practices that allow manufacturers to clothe the world's massive population often require huge amounts of energy, and that's not to mention the waste that's produced by seasonal style and the throwaway culture associated with modern fashion.
 To give you an idea of the scale of the problem, manufacturers often need over 2000 gallons of water to create just one cotton t-shirt, while in some countries labourers walk miles to fetch that water from drying wells in remote environments. In addition, the amount of clothes that end up in landfill put a significant strain on economic and environmental resources.
But it doesn't have to be this way. 
At Sewbox, we encourage our readers to try their hand both producing and repairing their own clothes using DIY methods.
It's time for the Sustainable Sewing Revolution. There's loads to read and learn on the subject, but we've put together this handy little guide for you to get started. 
What is sustainable fashion?
Sustainable fashion is about making clothing choices with the intention of leaving a minimal impact on the planet.
The idea of sustainability in general incorporates issues like carbon footprint, waste creation and and labor practices. So with that in mind, we should strive to sew and create mindfully, from curating a wardrobe that you love and will get the most out of, to styling considerately and getting the most wear out of your clothing.
What makes sewing a sustainable option?
There's multiple reasons why more DIY sewing enthusiasts will mean a more sustainable fashion industry. Here's a few:
As a sewer, you are in control of the fabric and haberdashery you purchase. You can purchase exactly what you need, when you want it. No more unnecessary waste.
You can decide what you want to do with any leftover fabrics that come about as a result of your projects. Leave no scrap left behind!
If you create an item yourself, it has added value and you're more likely to care for it longer and better.
Sewing reconnects us to the processes that go into clothing ourselves, rather than buying into the disconnect of the modern fashion industry.
And one of our favourites… by making something exactly to our own measurements, we don't have to buy into unsustainable ways of fashion sizing.
Who's getting involved?
There's more people joining the sustainable fashion revolution than ever before!
 Some of our favourite insights into the issue came from Scottish fashion model and actress Eunice Olumide, who gave these tips to readers courtesy of stylist.co.uk.
 And Ben Moore, a contestant on BBC Two's The Great British Sewing Bee, has recently been hired by Lyle & Scott and is planning clothes-mending lessons for later this year. While we're on the subject… check back to our blog in the coming months for inside info and all the latest news on the Sewing Bee's sixth season, coming soon!
—
If you're feeling like it's time to get started on a sustainable fashion project of your own, head to our online store for a huge range of textiles and materials at great prices. Good luck!