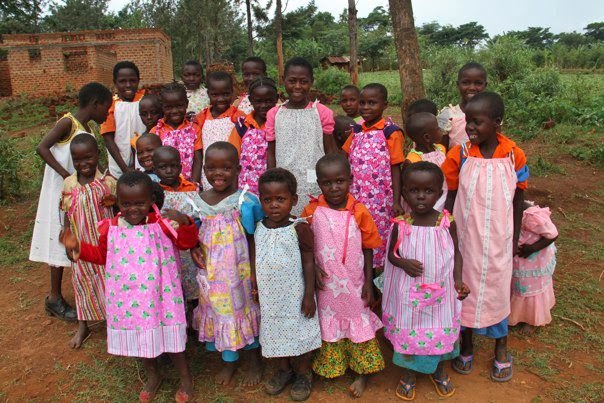 Sewing for a better world: three initiatives making change through needle and thread
For some, sewing is a hobby, a craft and a way to pass the time. For others, it can be a way to help those in need and spread waves of positivity across the globe. 
As we approach Christmas, the world of fashion is moving at break-neck speed as retailers work through the night to meet customer demand. Countless rolls of fabric are pushed, pressed and stitched to help giant warehouses churn out millions of products.
But it's not always about big business and bucks - there's plenty of initiatives that are doing their bit to help make the world a better place with needle and thread. Here's just three stories of charitable organisations doing great work this holiday season.
 1. Dress a Girl Around the World
Many of you may already be aware of this initiative previously. "Imagine a world where every girl owned at least one dress," is the powerful motto for Dress a Girl Around the World, a product of the charitable organisation 'Hope 4 Women International' who have brought dignity to women around the world since 2006 through their initiatives.
Rachel Eggum Cinader, founder of Dress a Girl Around the World, was first inspired during a trip to Uganda. She began collecting pillowcases and teaching young African girls to make dresses from the fabric, and when people from back home in the USA heard about the idea, they were keen to get involved. The rest was history - now, dedicated volunteers throughout the United States and around the world gather to sew and distribute dresses to those most in need.
Since Rachel's turned her idea into a reality, her team have delivered over one million dresses to 81 countries and continue to add layers to the program such as sex trafficking awareness.
So, just how much difference can a dress make? As the program's website makes clear, "a new dress tells each precious girl that someone else loves them enough to have made this dress especially for them. THAT makes a difference in how she feels about herself and can definitely change her destiny.
"Since we attach our Dress a Girl label on the outside of each dress, it sends an additional message that each girl is under the care of an organisation, giving her added protection from those who would harm her."
Source: https://www.dressagirlaroundtheworld.com/
2. Octopus for a Preemie
The U.K-based initiative Octopus for a Preemie sew little octopuses for premature babies in care. As they point out, "feeling the closeness of parents has a significant effect on their baby's recovery and growth… however, parents are not able to hold their children close to their body all the time."
This is where the brilliant team of volunteers comes in. "The babies play with their tentacles as if it is their mother's umbilical cord.
"At the same time, parents can have the deserved little break, knowing their tiny precious ones feel more safe and calm with the tentacles in their little hands instead of pulling those life-saving tubes and cables out."
This charity project first started in Denmark and then extended to Spain, Ukraine and continued in Poland, UK and more recently Austria. It's a fantastic initiative that's doing it's bit to make people's lives just that little bit better.
Source: http://octopusforapreemie.com/

3. Ryan's Case for Smiles
Ryan's Case for Smiles is a volunteer organisation withe a simple premise - "helping kids feel better to heal better."
The organisation sew together personalised pillowcases as gifts for children suffering from cancer and other life-changing illnesses. The pillowcases - which can be adorned with the child's favourite cartoon characters, colours or animals - provide an emotional boost and remind them that they are not defined by their illness.
As the organisation explains, "sadly, the stream of sick children never ends while the costs of fabric and materials have doubled over the past few years. To date, we have contributed over $16,500,000 in materials and supplies alone."
To find out more about the projects or to donate, visit the site below.
Source: http://caseforsmiles.org/