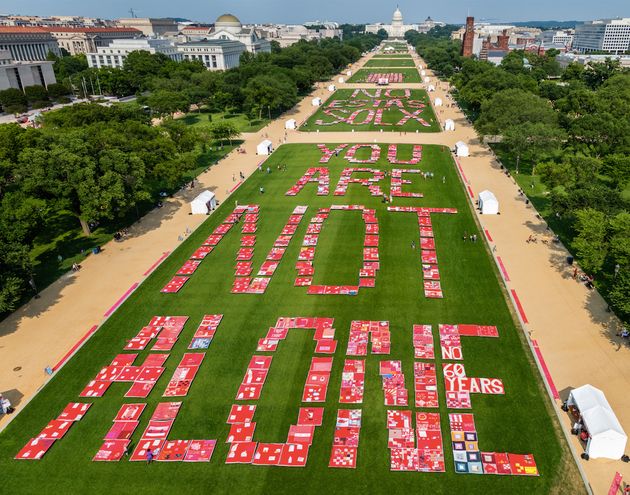 Sewing around the world - what's happening in 2019?
We're halfway through 2019, and already we've heard plenty of interesting sewing stories from across the globe this year. Here's our pick of the best to get you inspired for your next project!
PERU - prison inmates find new motivation through sewing
Inside the walls of San Pedro de Lurigancho, the biggest prison in Peru, a small-scale sewing revolution is taking place. French designer Thomas Jacob is leading an initiative whereby inmates serving time are taught to sew and create clothing, birthing a brand called Pieta ('Mercy' in English).
This work earns the inmates almost the equivalent of a minimum wage, and can see their sentences reduced. But there's further benefits - these men are using their newfound skills to combat the boredom and mental struggles of being  behind bars, and to give them hope of employment after release. So far Pieta has sold over 200,000 products!
U.S.A - victims of violence sew together with the 'Monument Quilt' 
3,000 victims of sexual assault from across the United Stated and Mexico have created a single square of cloth displaying their personal message, with the finished product being a special sewing project known as the 'Monument Quilt'. When the cloth is assembled and viewed from above, giant letters spell out "YOU ARE NOT ALONE" in English and in Spanish.
The message was laid out on the National Mall in Washington, D.C this month - one of the most significant historical and cultural locations in the country. Kalima Young, a member of the leadership team who organised the project, says the quilt-making process has helped victims to recover and come to terms with their own past.
CHINA - cutting-edge researchers create 3D sewing robotic arm
Things got a little bit weird in Hangzhou, China this month. Researchers in eastern China's Zhejiang Province created a 3D sewing robotic arm which could remove the demand for traditional sewing practices that rely on human hands. The robotic arm is about the size of a human's, but learns it's skills much quicker than our brains could by scanning pieces of cloth with a laser and sewing them together based on programmed patterns and cut threads. How long does the process take? Just a few minutes. At the moment, the robotic arms are being used in the sewing of automotive interiors but it's thought that they will soon be used in other fields including aerospace. 
LONDON, U.K - Bride saves thousands on wedding with DIY sewing skills
With the average wedding in the U.K now costing in the region of £30,000, it's no wonder that some sewing-savvy brides are turning to their own needle and thread to keep costs down. 29-year-old Rosie Scott from London - who runs her own craft blog - did exactly that, using fabric her fiancé had bought her to sew herself a skirt and a matching tie for her husband. Luckily for her, her staff discount at Monsoon also helped her to save 70% on a floral dress for after the ceremony. All-in-all, Rosie's wedding cost just £400! Why not check out our online store and see how our products could help you keep your everyday clothing costs to a minimum?