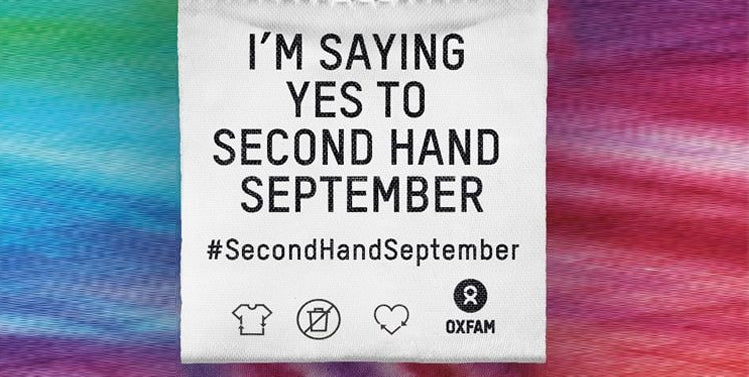 Second-hand September: what's it all about?
OXFAM are encouraging us to say no to new clothes and shop only second hand during the month of September. Could you do it?
"Throwaway fashion is putting increasing pressure on our planet and its people – it's unsustainable," say OXFAM.
The major charity has launched this years #SecondHandSeptember campaign, which aims to draw attention to the negative effects of the fast fashion industry and to inspire us to make more sustainable choices when it comes to clothing ourselves.
Did you know that 13 million items of clothing are sent to UK landfill sites every week?
Or that it would take over 10 years for one person to drink the water needed to make one cotton t-shirt and a pair of jeans? In some countries, labourers walk miles to fetch that water from drying wells in remote environments.
The industrial practices that allow manufacturers to clothe the world's massive population often require huge amounts of energy, and that's not to mention the waste that's produced by seasonal style and the throwaway culture associated with modern fashion.
We spoke more about the issue in our blog article 'Sewing for a sustainable planet: how to use your craft for good', which you can read here.
This year, OXFAM are encouraging more people than ever to join the Second Hand September pledge to shop only second hand for 30 days or more. If you're keen, you can share your pledge with the OXFAM community using #SecondHandSeptember and tagging @OxfamGB on Instagram and Twitter.
There are multiple ways in which you can get involved. If you're sick of throwing away money on items of clothing you wear only once, this could be the time to do something about it.
You could: 
Visit your local charity shops and thrift stores, buying second-hand items either to wear or to use in your own sewing projects.
Organise your wardrobe so that you're aware of what you do and don't wear. When you make a conscious effort to recognise your shopping habits, you're more likely to change them for the better.
Unsubscribe from retail newsletters that you find yourself buying unnecessarily from on a regular basis. They're designed to part you with your cash… and are very good at doing so! 
At Sewbox, we encourage people to re-use and recycle fabrics and clothing as much as possible. Although we do stock everything you need to start projects yourself, we also provide resources that allow you to make the most of your materials and only buy what you need.
If you like the sound of getting started on your own sustainable project during Second-hand September, why not check out our '3 DIY sewing projects perfect for lockdown'.
Remember - OXFAM aren't asking us not to spend money at all, just to consider what alternatives there are to buying brand new products on a regular basis. 
Happy sewing!