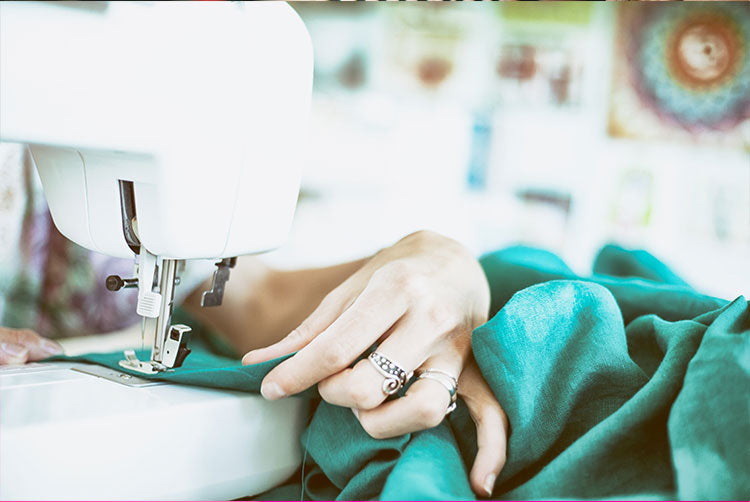 How to find a sewing community near you - part 2
Last month, we took you on a tour of sewing clubs and initiatives across the U.K that are inspiring people to work on their craft. If your city wasn't on the list, don't worry - we've hopefully got you covered below! 
Edinburgh - The Edinburgh Sewing Club
meetup.com/Edinburgh-Sewing-Club
These guys do exactly what they say on the tin! If you're in the Edinburgh area, drop in between 9.30am and 5pm Monday to Friday to learn how to repair or adjust your own clothes, socialise and make some new friends.
You'll learn techniques such as shortening, lengthening, adjusting seams, altering darts and repairing zips - stuff that could save you a fortune in the long run! Or, if you're a more experienced sewer, why not use your skills to pay it forward and teach someone what you know.
All the club ask in return is a small donation if you can manage it. The club run their sessions at the Edinburgh and Lothians Regional Equality Council, a local charity promoting equality, human rights and sustainability.
Cardiff - The Little Sewing Works
According to excellent TripAdvisor reviews, there's not much that the Little Sewing Works' host, Cynthia, doesn't know about the craft!
Here you can immerse yourself in classes ranging from beginner level, where you'll have the freedom to learn to sew anything you want and will work alongside no more than 3 other students, to more advanced sessions like Curtains & Roman Blinds Workshops which take place on the second Saturday of the month. To help make choosing workshops easier, Cynthia has created levels to help you decide which workshop is best suited for you. The levels are designed to be progressive and build your sewing skills. 
If you're in Cardiff, what are you waiting for?!
Liverpool - Craft Out Loud
craftoutloud.co.uk
Craft Out Loud offers a range of fun and affordable sewing and craft lessons in Liverpool. Their founder, Allison, believes that crafts can help people when they are feeling low and need a distraction from everyday life. That's something we can all agree on.
The cool thing about Craft Out Loud's classes is that they're open to anyone over 10 years of age, which gives parents the chance to learn alongside their little ones for a great creative and bonding experience. 
Allison is currently running classes ranging from one-off cushion making sessions to 6-week dress making courses. There's something for everyone!
Sheffield - Sew in the City
Sew in the City is one of Sheffield's top hangouts for sewing lovers, and for good reason. 
Whether you sew, cross stitch, knit, embroider or crochet, their popular 'craft social' sessions are a great place to relax, socialise and create with like minded people - perfect for those of you who struggle to set time aside to complete projects.
You can either bring your own project or find inspiration from the books and patterns that they have on site. Their prices are very reasonable at £8 to use a sewing machine, and £5 if not… and even better, refreshments are provided!