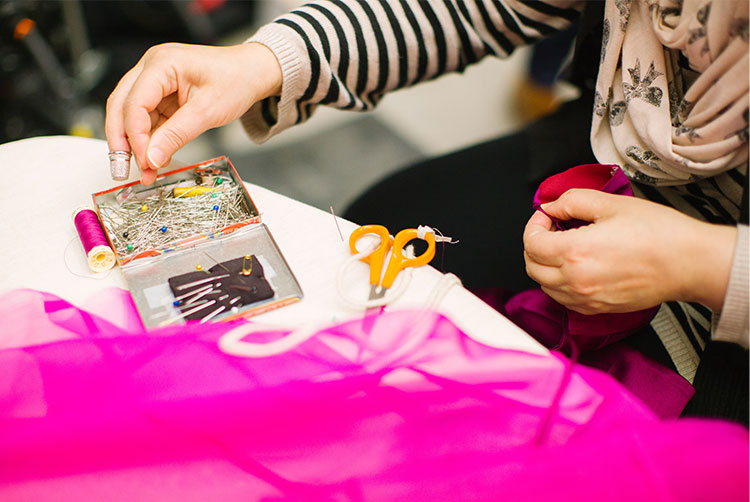 How to find a sewing community near you
As the wonderful world of sewing continues to inspire creativity and togetherness across the U.K, we've put together a list of collectives and initiatives that are helping people with their craft - hopefully in a city near you!
London - The London Craft Club
"There's nothing more wonderful than losing yourself in working with your hands," say the London Craft Club, and we think they're right. 
Their craft workshops in the capital are perfect for anyone who's willing to try something new or to work on their existing skills amongst a collective of like-minded sewers. These workshops range from sewing useful items to spruce up your home such as giant blankets and cushions, to mindfulness embroidery classes that will teach you to 'stitch for self-care'. Take your pick!
Manchester - The Stiched-Up Collective
stitchedup.coop
Stitched Up started in 2011, with the aim of encouraging individuality, pride and sustainability through fashion and style. They are a not-for-profit co-operative run by three women, all with a passion for the environment, human-rights, style & creativity. Although these issues are global, Stiched Up operates on a very local basis, with their HQ in Chorlton offering sewing and upcycling workshops, clothes swaps and sustainable fabric sales, as well as workshops and events across Greater Manchester. 
Leeds - Workshop Sewing Café
Workshop is a self-styled sewing cafe, haberdashery, creative space, makers meet-up and general hang out in Headingley, Leeds. If you want to find the sewers in the city, this is the place to be!
The space sells a wide range of fabric and provides tables with access to a plug socket meaning you can drop in and sew anywhere in the cafe, with Janome machines and overlockers available to use from just £5 an hour. And the best thing? Great tea and coffee by The Blending Room and Bird and Blend, with a small selection of cakes baked by local independent bakeries along with a little savoury food. It's a great place to relax - whether it's just for a drink or to work on your latest project.
Birmingham - the Midlands Arts Centre
The MAC is the largest-scale initiative on our list, providing a 'pioneering arts complex for everyone' with a simple mission: 'to make art an important part of people's lives.'
The MAC is not only an awesome place for sewers and other creatives to hang out and meet each other, but also offers a wealth of practical classes in all aspects of creativity including textiles, embroidery and so much more. 'Textile Screenprinting', 'From Paper to Fabric' and 'Sewing for Children' are just some of the courses they're currently running, with new options announced all throughout the year. Located in Cannon Hill Park just two miles south of the city centre, the MAC attracts over a million visitors every year, drawing audiences from across the UK and beyond.
—
If your city didn't make the list - don't worry! Next month we'll be releasing a whole new list of different collectives in new locations. Until then, check out our online store to stock up on a wide range of materials for your next project.