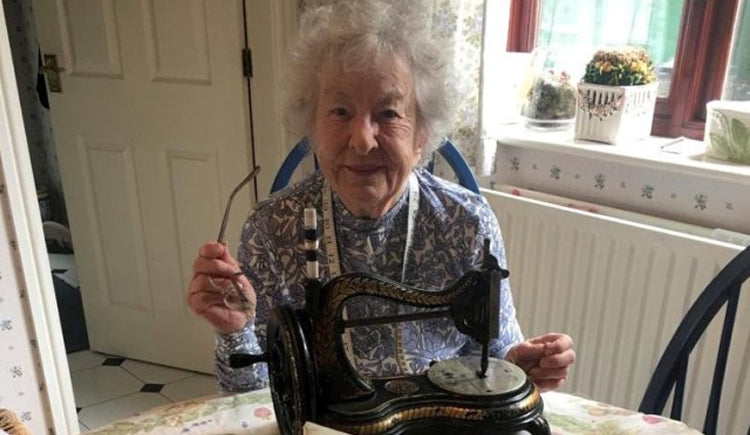 Feel-good sewing stories of the month
Sewing can bring people together, provide much-needed resources during times of need and can be an excellent aid to mental health. 
In our new edition of feel-good sewing stories of the month, we look across the UK at the avid sewers using their skills to help their communities. 
The Grandma sewing scrub bags for NHS workers
What do you get when you cross a 92-year-old grandmother and a 72-year-old sewing machine? 
65 scrub bags… and counting! 
Grandmother-of-two Connie Diggle has been doing her bit to protect NHS workers during the Covid-19 pandemic by stitching bags for them to put used scrubs in, ready to wash.
She's been self-isolating for eight weeks, and spending an hour every evening at her sewing machine - the same one she's had since her mother bought it as a present in 1947. 
Now, she's putting her skills to good use as part of the Scrub Hub group (more on them here), who have banded together to help the NHS with much-needed supplies, like scrubs and bags, during the crisis. 
Clearly age is just a number for Connie! Click here to read her full interview with the METRO. 
Volunteer sewers brighten coronavirus wards in Glasgow
A group of 20 volunteers have been sewing bespoke scrubs made from donated bedding - in a vast array of colours and designs - in order to brighten up the wards at the Glasgow Royal Infirmary.
The fabrics are chosen to be fun and brightly coloured to lift spirits and are being donated by the Hyndland Secondary School in Glasgow.
Phil Malik, a nurse at the Glasgow Royal Infirmary's intensive care unit, described the volunteer's work as a 'wave of armour'.
He said: 'The scrubs, masks and bags are not only well made, comfy and funky, but are worn like a badge of honour or pride.'
The initiative is once again linked to the fabulous work done by the Scrub Hub - the source of our first story, too!
Read more about the story here. 
Ex-Prisoners join national effort to sew face coverings
A charity for former prisoners has begun sewing masks as part of a massive national effort to meet the growing demand for face coverings.
The ex-prisoners are sewing with fabric donated by Patrick Grant, a judge on  BBC One's Great British Sewing Bee. If you're a fan of the show, check out our blog for regular content on the new series!
Grant has recently launched the #BigCommunitySew, in an effort to provide free masks for all now that Prime Minister Boris Johnson has suggested masks should be worn in public places and on transport services.
The army of new volunteers are working with Haworth House, a hostel run by the Probation Service in Blackburn, Lancashire. They have joined more than 100 Women's Institutes and community groups - much like those in our first two stories - to ensure people can make and use their own personal masks so that key workers do not run short of supplies. 
For the full story, click here.