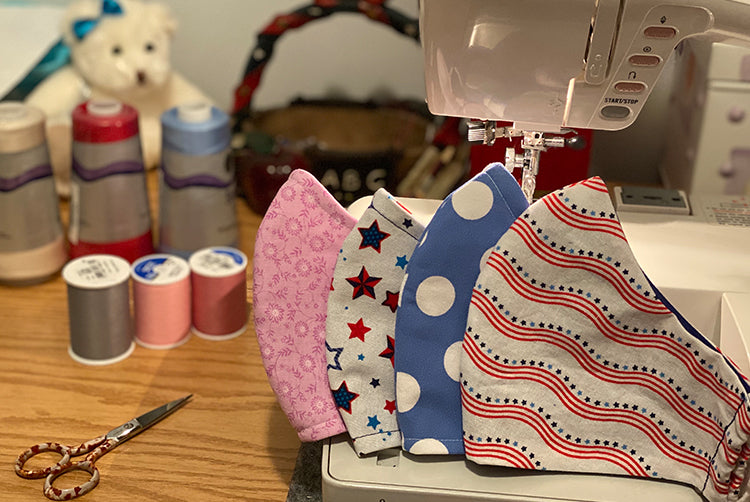 Crafting during Covid: what effect has lockdown had on the sewing industry?
We're interested in all things sewing at Sewbox, and that includes how the industry is growing and in what direction. The Covid-19 pandemic has not been easy for anyone, but how has it impacted the world of sewing?

We take a look…

"The saying goes 'a stitch in time saves nine' - but during lockdown sewing is seemingly saving many of us from boredom," said ITV News recently.

For many people across the globe, the Covid-19 pandemic has unfortunately resulted in restricted access to their usual hobbies and interests. But, this also means that the past year has provided people with a chance to take up something new, and to learn fresh skills that fit within the confines of national lockdowns and increased time indoors.

It's for this reason that waves of people have turned to sewing to wind down and keep things creative.

"Forget baking sourdough," said The Sunday Times, "getting through these restrictions is all about handicrafts."

Sewing is a hobby that can be done alone, has practical and environmental benefits as well as enjoyment and can be a great aid to mental health during lockdown (check out our article on that here).

 

"Due to the recent Covid-19 pandemic, the players in the global sewing machine market are experiencing remarkable growth in demand," say PR News Wire.

 

"A key factor attributed to this scenario is increased inclination among major worldwide population across the globe toward performing stitching activities as a hobby or for employment purpose."

That's an important point - it's not just people taking up sewing as a hobby that have contributed to the spike in sewers, but those turning to the craft as a way to kickstart a new Covid-friendly business. Here, we took a look at 2 of the most inspiring sewing projects to emerge from 2021 so far.

In another feature by BBC News, we learnt of a mother-of-two who turned her sewing hobby into a lockdown business as a "coping mechanism" to improve her mental health.

"Emma Talbot, 39, from Bedford, started Clemency Loves Jude from her kitchen table to help with post-natal anxiety and panic attacks caused by lockdowns. Unable to buy new clothes, she adapted her wardrobe and began making headbands with the leftover material."

 

But it's not just feel-good stories of sewing businesses to emerge from lockdown that have made the news. Across the country, numerous community-minded people have used their sewing skills to help frontline workers and victims of the crisis.

 

Masks and PPE both require stitching and sewing to complete, and in this article we shed light on how 3 sets of community crafters have taken up the needle and thread to help supply the country with vital supplies.

 

So, there we have it. Sewing has not only spiked as people find their creative flare during lockdowns, but has helped community crafters to pull together and supply the NHS with supplies at a time of need.

We're proud to be sewers - are you?