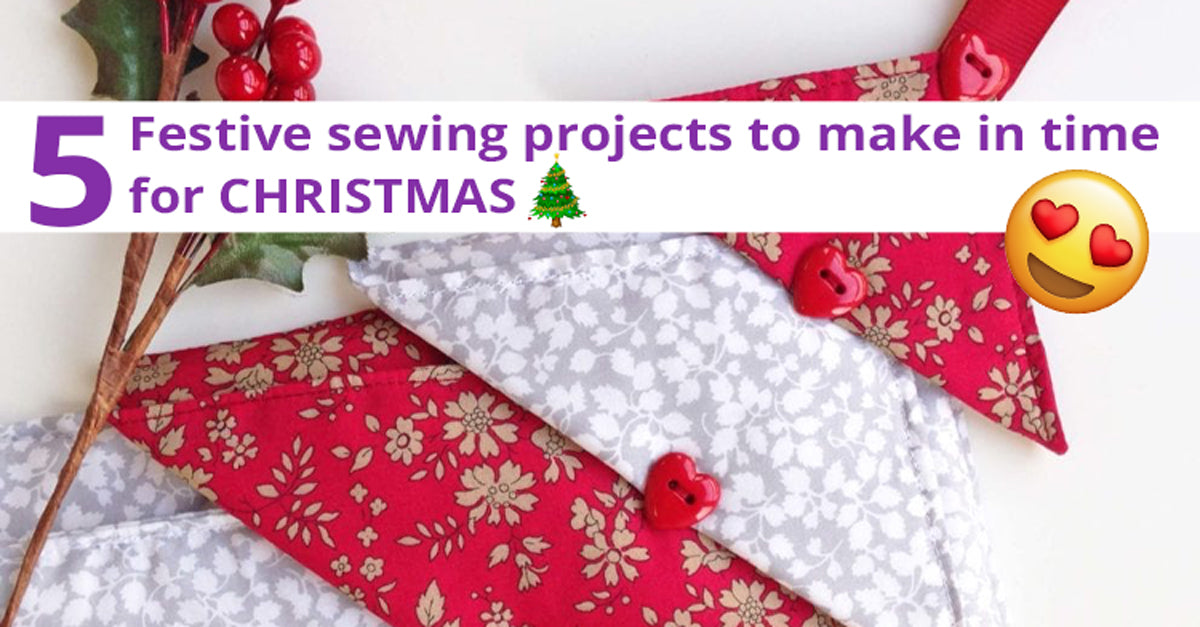 5 festive sewing projects to make in time for Christmas
It's that time of year again!

Here, we've chosen our 5 favourite mini-projects to work on this December, creating Christmassy crafts that can be used to decorate the house or as unique presents for friends and family. There's nothing like receiving a handmade gift!

What's more, most of the materials needed for these mini projects are available at great prices on our online store.

They're all quick to make so still plenty of time before Christmas.

Scissors and fabric at the ready…
1. Fabric Festive Bauble
Here, Debbie Shore teaches us how to use the fabric scraps from previous projects to make some great decorations for around the house.
We're all about economical projects like these that allow us to recycle those bits of pesky unused fabric we have lying around.
This can take as long or as little as you like, depending on how many materials you have spare. It's a great one to try with kids, too, as there's not much technical work involved.
A great opportunity to use up all your little
scraps of Liberty Tana Lawn
.
2. Christmas Stocking

It just wouldn't be a Christmas project list without a stocking!

We feel our Liberty Fabrics will be a top choice for this one, as the sky's the limit when it comes to picking the right look and feel of your stocking.

For more of a luxury feel, you can even make the inside quilted as shown on the video above.


This image shows our take on this project where my friend Lynda has used 
Liberty Christmas fabric just for the top of the stocking – sometimes less is more. She has teamed it up with some luxurious navy jumbo cord she had in her stash and embellished it with a lovely gold cord and bell.


This project should take no longer than half an hour, and doesn't require much apart from your sewing machine and chosen fabrics.
3. Fabric Christmas Tree
Dot these around the house for a simple way to make you feel more merry this December, or give them away as personalised gifts!

Liberty Tana Lawns are ideal. You could use 2 contrasting or toning Christmassy red prints for a great effect. Ie
Capel Red
  and
Wiltshire in red. 
The cool thing about this project is that, by using non-festive fabric for your trees, they can stay up all year long as unique additions to your home.
For the stuffing, we recommend using the insides of old pillows if you have any lying around. Cotton wool can work just as well though.
The video above shows you how to make a tree with 6 'strands' of branches, but to simplify things if you're short on time, you can make 4 instead.
Try it out!
4. Tree Farm Table Runner
Next up is this fun table runner from Shabby Fabrics. It's probably the most time-consuming of the projects on our list, but will look amazing during Christmas dinner.
The
Liberty Seasons Greetings Quilting
fabrics would be ideal for this runner.
Once again, it's a project that can be personalised entirely how you like it, using whatever fabric catches your eye.
And when people ask where you bought it, you'll be able to say it's one-of-a-kind!
5. Santa Claus Christmas wine topper
Another way to make the kitchen more Christmassy? We're in!

All you'll need for these cute decorations is a few squares of different coloured fabric and some pins. Patterned fabric and ribbon works well if you have some to hand, too.


Liberty Tana Lawn is ideal for the patterned fabric. 

Allow approx. 20 minutes for this one, or a little longer if you're just starting out.
Now it's your turn! 

To start making these crafts in time for Christmas, head to our online store where you'll find everything you need at great prices. You can order as little as 0.25 of a metre. -  Shop here.

We're here to help you have your best Christmas yet!