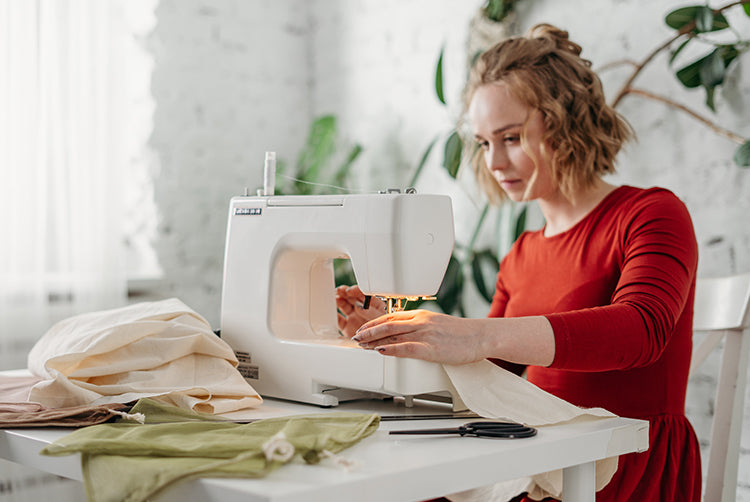 3 reasons everyone should learn to sew
Sewbox has just returned from the fantastic Stitch Festival and it's been amazing to see fellow sewists who have never met before start chatting and sharing tips and experiences. Sewing really does bring people together. 
The benefits of sewing for the environment, mental health, self-improvement and generally bringing people together are starting to be recognised for real.
Sure, we may be a little biased. We love sewing and that's why we do what we do. But if you need convincing, here are 3 reasons why now might be the time for you to pick up your needle and thread!
1. Sewing contributes toward a more sustainable future
We explained the ins and outs of sustainable sewing in last month's blog post, but the general idea is simple: by learning to make, repair and share our own garments, we reduce the demand for the harmful practices associated with fast fashion.
Kristen McCoy, the owner of RETHINK Tailoring & Sewing Lounge in Minneapolis, said it best in her interview with Apartment Therapy:
"I think that people want to take more agency over their wardrobe. Between questionable labor practices, carbon footprint, contaminated waterways from dyes and fabric treatment, and landfills overflowing with textiles, sewing for yourself feels like a part of a solution.
"I think as we learn more about the fashion industry and its implications on the environment, mending has been a huge movement." 
2. No excuses - it's now easier than ever to learn
Everyone knows social media has its good and bad sides… but one thing's for certain. With the ever-growing list of sewing bloggers, influencers and instructors creating super useful content for free, there's never been an easier time to learn something new.
In fact, last summer we put together a list of our Top 4 Sewing Bloggers on Youtube which is a great place to get started.
If you're just starting out, we recommend beginning getting to grips with some hand sewing basics, and then moving on to creating complete pieces. Almost all sewing content creators cater for both beginners and the experienced.
But, if you'd rather stay away from the screen and head out to meet some new people while you learn, read on…
3. Sewing is the gateway to meeting new people
There are more sewing classes, workshops and get-togethers than ever before across the U.K, and there's bound to be a group of social sewers near you.
Don't just take our word for it - last year we scoured the map to put together a guide (in two parts!) to finding a sewing community near you.
And that's not all. What begins with a meeting of minds can sometimes lead to something amazing. If you're after some solid inspiration, check out the real-life examples of sewing projects that have united thousands in these heartwarming stories from last year.
 — 
If you've made the decision to start sewing for yourself, welcome to the Sewbox Family! 
We're here to help you every step of the way. To browse our latest collection of materials and fabrics for your project, visit our store here.